1. The documents from

 Mapping Installation Art in Bangalore: 1993 – 2003 -

A dialogue on five selected art projects,

 an evening of conversations on the history of installation art in Bangalore, supported by India Foundation for the Arts as part of Nenapinangaladinda: Down Memory Lane – A Project 560, held on March 3, 2016 at Venkatappa art gallery
2. Documents prepared for and presented during the Art event "Quilted" 2003 
​​​​​​​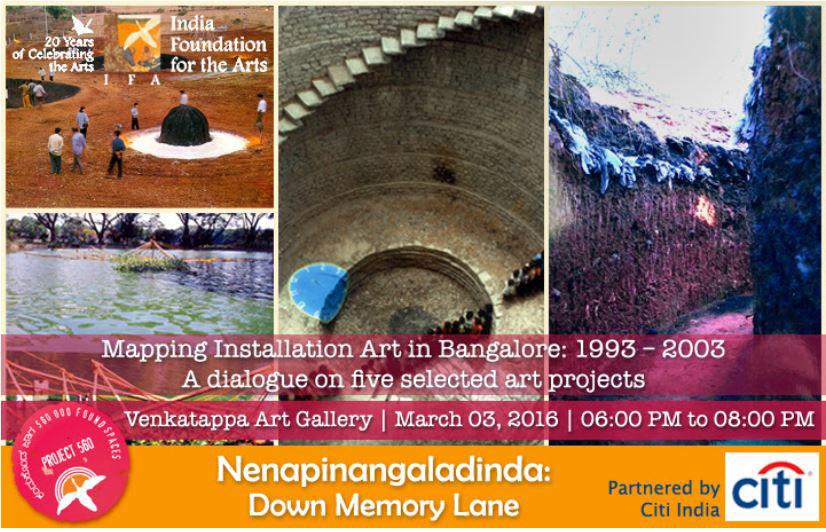 Nenapinangaladinda: Down Memory Lane – A Project 560, 2015 Arts Talk, March 3, 2016 
Art projects: 1. Silence of furies and sorrows – pages of a burning city. 2. Earth work – a time site specific art. 3. Sthalapuranagalu. 4. Sakshi Gudda Sakshi Gode. 5. Walls of Memories – an art event of unresolved edges.    
Artists: Sheela Gowda, Pushpamala N, Ramesh Kalkur, Shamala, Srinivas Prasad, M.S.Umesh, Azis T.M, Tripura Kashyap, Raghavedra Rao, Ravisankar Rao, Amrish, Ramesh Chandra, Shantamani, Nandakishore, and C.F. John
The practice of Installation Art in India begins in early 90's.  Bangalore has made major contribution to this field right from its early period. These attempts resulted in bringing forth new materials, forms, language and space. Individualist, collaborative, and connecting with land, communities and public spaces – artists of Bangalore with determination and restlessness responded to their inner calls. Not only installations but also performance and sound art found expressions here in those early times. 
Those were times, much debates were taken place scrutinising the validity and many other aspects of these practices.  The kind of questions the practising artist had were not the questions for many others. Galleries and other institutions were largely still focussing on conventional forms of art like sculptures and paintings. International biennales and funded spectacular shows were unheard of. 
In early 90's life in all aspects were changing – social, Cultural, economic, political and also spiritual. The land and water that defined one's identity and consciousness became commodities. The emerging religious fundamentalism, changing life styles, taste and aspirations all created immense churning.   Hence the practices done by artists resulted in engaging and contributing to public discourse and critical societal thinking. Enigmatic thoughts and experiences, will to engage and intervene, and trust in the power of Art to make leap into the unarticulated worlds, all caused the emergence of these new forms. 
By the turn of this millennium, the scenario in art world started changing. The new forms already established its routings. The demands and questions from both practising and non-practising community changed. It became a form to pursue for many.  Galleries start accepting it. Otherwise the walls and floors kept pristine to display paintings and sculptures were thrown opened for anything artist desires to do. Be it breaking down of the wall, making holes on the floor, painting the walls, sticking, pasting, anything, all for the sake of Art.  International biennale in various places opened up opportunities to take art from India to wider communities. Digital cameras and new forms of documentations became easily accessible. Funds coupled with imagination start giving Art a scale that was unthinkable earlier.   
Almost all the forms created in Bangalore then were temporal in nature using natural materials unlike the counter parts in other parts of the country where the forms largely relied on photography, and permanent structures that were movable and could show at other places. Because the forms done here were temporal in nature, the further dissemination depended purely on the ones who had the chance to view it. Digital cameras were not available at that time, so even a proper documentation was unaffordable. So at present we have very scanty and poor quality visual documentation of these projects.   
During this dialogue we hope to listen from the very same artists about the practices done in those early times in relation to the context and a time one was not influenced by similar practices in terms of its language, sensibilities, materials, forms and spaces. And also about how these works have guided them further. 
C.F.John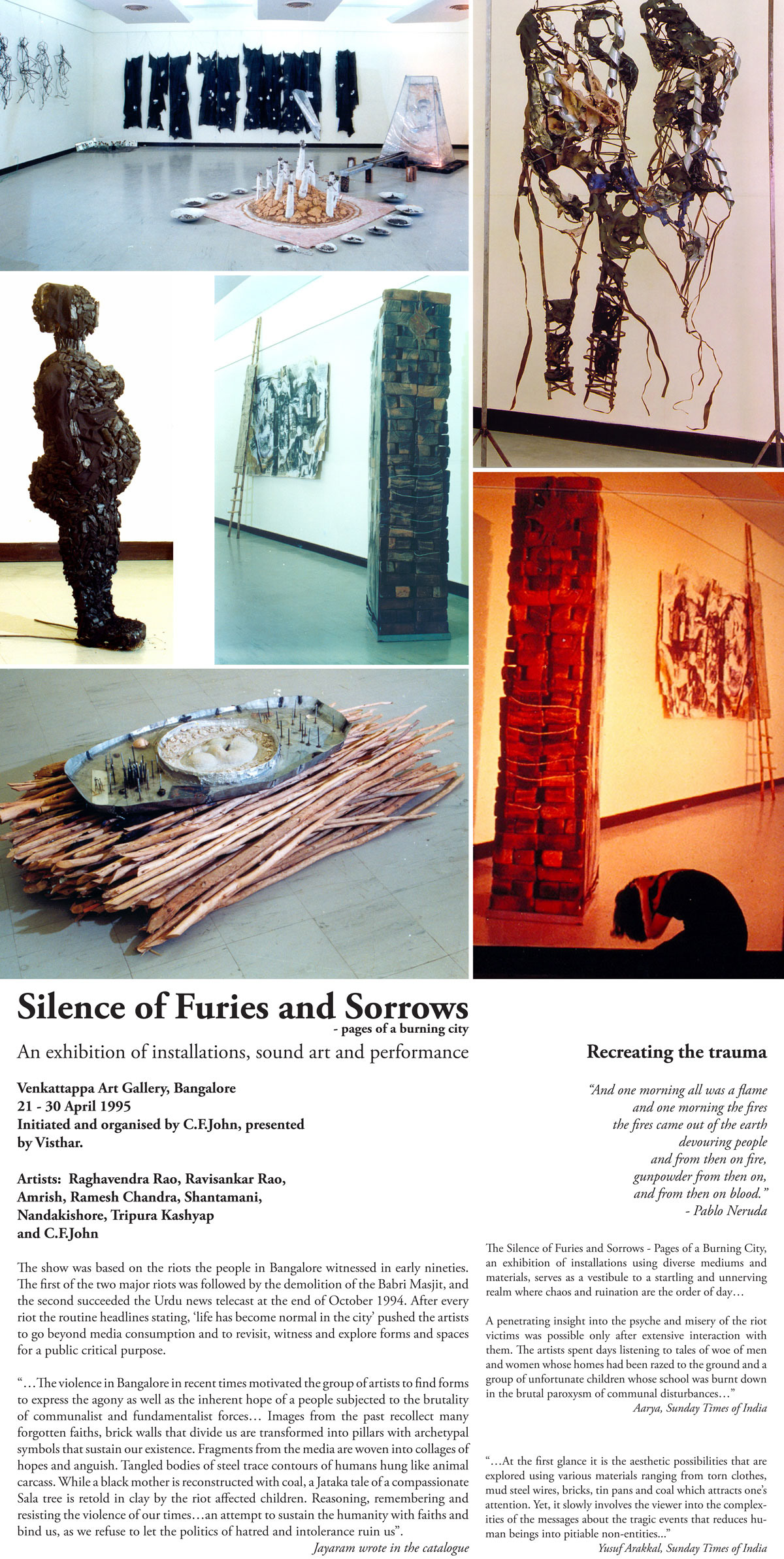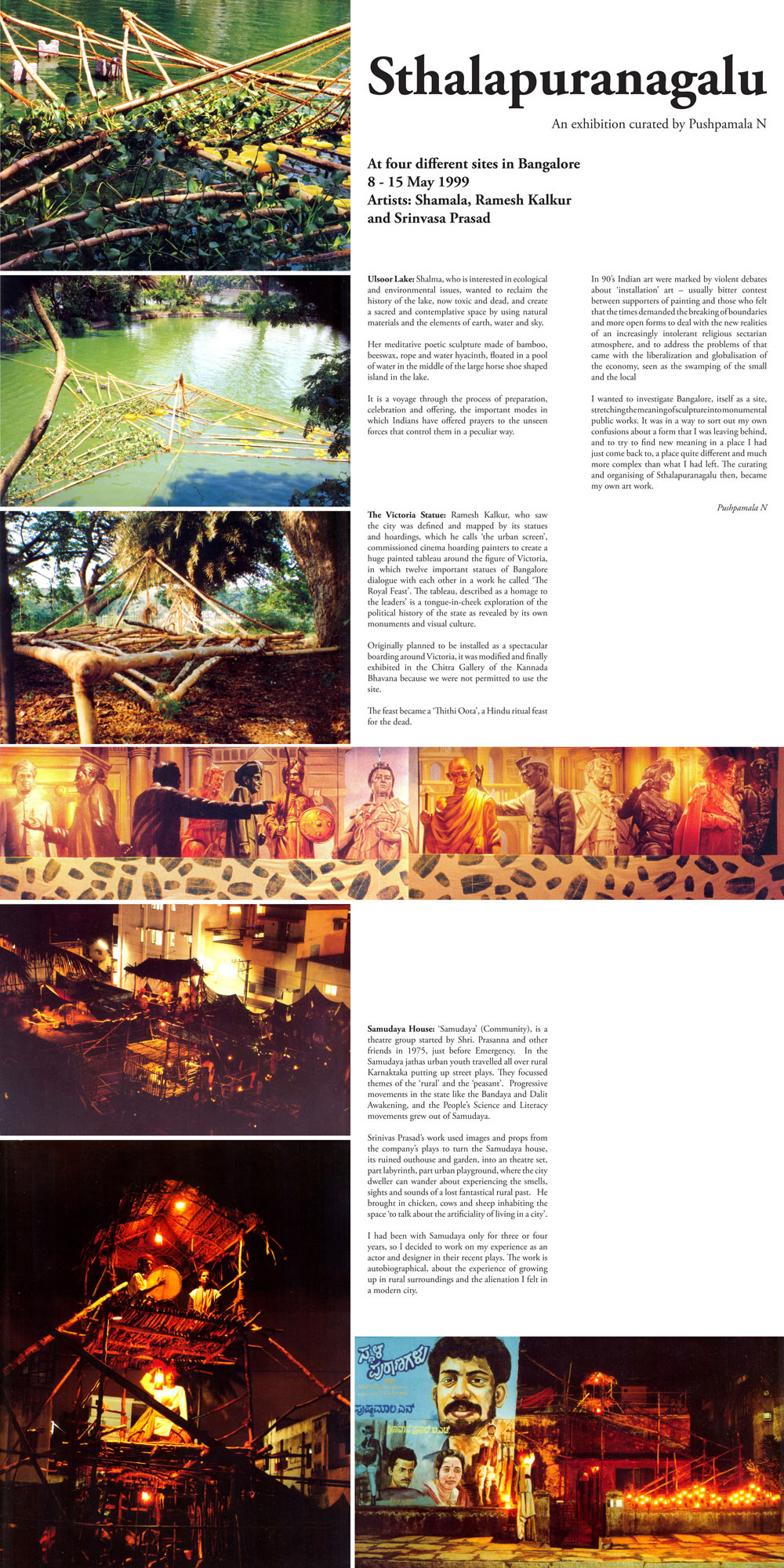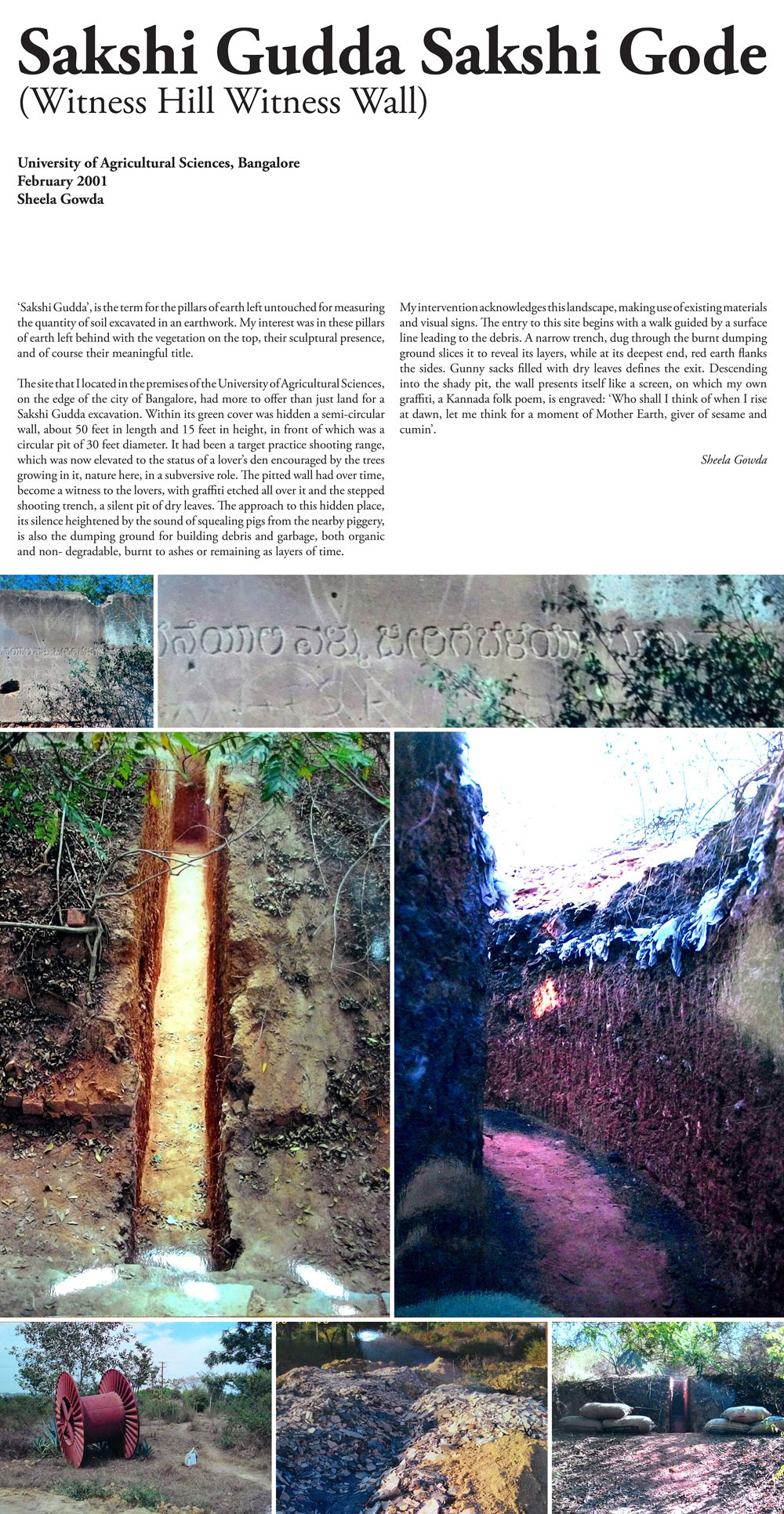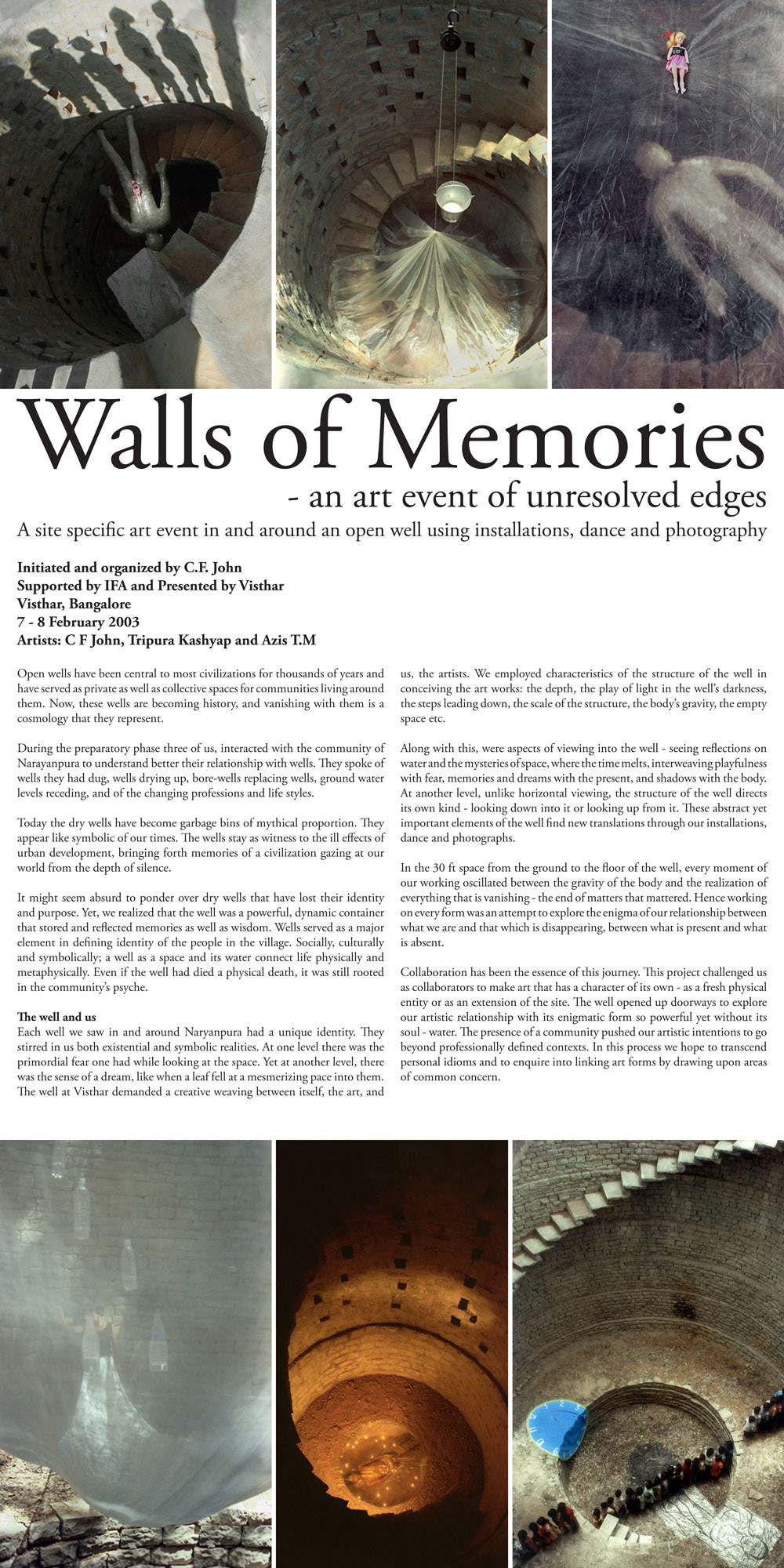 Following are the INSTALLATION ART projects done by artists 
iN Bangalore between 1993-2003
This was first presented during the art event 'Quilted', Gallery Sumukha, Bangalore 2003. 
Compiled by C.F. John and Raghavendra Rao
1.Sacrilege | 
Venkatappa Art Gallery, 6th to 12th March 1993
 "…There is, in fact, an instinctive and analytical mind at work, in these works: they do question the social or religious patterns of faith and behavior through materials familiar to ritual practices, like cow dung, turmeric or kumkum, in the immediate context. They do express a social concern: a sensitive scrutiny of values or recognition of importance of the specific viewing public are certainly very relevant to these works…" (Writes Srinivas Murthy in the catalogue titled 'Anatomy of Sacrilege') 
2. Cultural Spiral | 
Rabindra Kalakshetra, April 1993
Initiated by C.F. John and Jointly conceived with Rasna Bushan and Sheela Gowda. Supported and presented by Visthar. Artists:  Sheela Gowda, Rasna Bushan, Raghavendra Rao, Om Prakash, Ravishankar Rao, P.C. Stephan, Surekha, Sudharsan, Somasekaran, Dhanaraj Keezhara and C.F. John.
"…The installation was in the form of a spiral maze. Two intertwined spirals over 100 feet each in length and 6 feet in height with 4 feet space between each layer were installed.  The material used was plastic. The transparent surface of the plastic made it possible to weave together visuals and the viewers from different layers. Hence, contemporaneously the images, installed space, and viewers become integral components of the work…"     
   " … Visuals and texts were taken from various counter cultural/religious movements from history that countered the dogmatic religious stands of the time. These visuals were painted or drawn on the plastic surface of the spiral.…"  
"… one notes how an image drawn from a religio-cultural tradition can be effectively secularized with the necessary ideological intervention… I have dwelt at some length on this installation because it seems to me that the spiral offers one of the most potent visual signs of our emergent secular culture…" (Rustom Bharucha wrote in EPW).
3. Silence of Furies and Sorrows – Pages of a burning city | 
Venkatappa Art Gallery, 21st– 30th April, 1995,
Initiated and organised by C.F. John. Supported and presented by Visthar.   Artists: Raghavedra Rao, Ravisankar Rao, Amaresh U Bijjal, Ramesh Chandra, Shantamani, Nandakishore, Tripura Kashyap and C.F. John
The exhibition was based on the riots the people in Bangalore witnessed in early nineties. The first of the two major riots was followed by the demolition of the Babri Masjit, and the second succeeded the Urdu news telecast at the end of October 1994. After every riot the routine headlines stating, 'Life has become normal in the city' pushed the artists to go beyond media consumption and to revisit, witness and explore forms and spaces for a public critical purpose.     
"…The violence in Bangalore in recent times motivated the group of artists to find forms to express the agony as well as the inherent hope of a people subjected to the brutality of communalist and fundamentalist forces… Images from the past recollect many forgotten faiths, brick walls that divide us are transformed into pillars with archetypal symbols that sustain our existence… a Jataka tale of a compassionate Sala tree is retold in clay by the riot affected children. Reasoning, remembering and resisting the violence of our times…an attempt to sustain the humanity with faiths and bind us, as we refuse to let the politics of hatred and intolerance ruin us". (Suresh Jayaram wrote in the catalogue)
4. Matter and Materials | 
Chitrakala Parishat, June 1995
Curated by Sheela Gowda and presented by Max Mueller Bhavan, Artist: Raghavendra Rao, Shanta Mani, Umesh M.S, Ramesh Chandra, Ravishankar Rao, Nadakishore. Rahul Bhusan and Sheela Gowda
"The bold use of industrial materials here directly confronts the subject.Both photographic documents and metaphoric responses of the artists address environmental destruction:  the choice of cement, metal or rubber, for instances is significant" 
5. Earth work – A Time and Site Specific Art | 
Kodigehally, 28th – 31st March 1996
'The large uncultivated land measuring about an acre was turned into a playground where a little boy's comic book fantasy was worked out. Five large craters were formed on the surface as if a solid object had crashed into the earth. The object itself was represented as a black blob like form in the field. The huge shallow basin had been dug up using machines… While one of the craters was left empty, the others contained egg like forms, white rangolidrawings and smouldering coal. The space surrounding the craters was rather timidly ploughed. A make shift bamboo shelter incongruously housed two live cows.'
The visitor was privileged an entry into the very soul of the artist laid bare on the vast land in Kokidigehally. The project lasted for four days (Mar. 28thto 31st. 1996)'
 (Writes Vidya Murthy in the catalogue)     
6. Inhabiting space within space | 
Venkatappa Art Gallery, 17th– 19th May 1996. 
Smitha Cariappa
"In today's world of multinational and globalization more complex and intricate than fantasy the urban individual is simultaneously decentered and multicentered, existence is increasingly hybrid, increasingly accumulative, as victims in this period of swift social-political-cultural change. The acceptance of single selves, the presence of conflicting identities, straddling and embracing whatever may best suit. Historical times or social-economic realities at once. Linkages disappear from view but "faceless masters" continue to inflict our every existence…".  (Artist's note from catalogue). 
7. Territory – an Art Event | 
In Doddakalasandra, 24th – 16th April, 1998
Initiated and organised by  C.F. John, supported and presented by Visthar. Artists: Raghavendra Rao, Ramesh Kalkur, Azis T.M, Surekha, M.C. Ramesh, Tripura Kashyap and C.F. John

 
"Our experience of territory and community are interwoven — both shelter us and bind us in intimacy. At the same time, we have stories of exiles and of exodus to dream territories. The meaning of territory has undergone changes from time to time.…  Today we experience globalisation of markets and homogenisation of culture on one side and increasing ethnic and communal divide on the other. The search for national identities is taking place simultaneously with the displacement of basic communities. Contradicting spectrums such as these play a vital role in the making of contemporary mindset".  (C.F.John, from the handout). 
The works were executed in an open land and in an old industrial building. The materials chosen were the day-to-day ones conventionally used for defining boundaries. The rawness of the materials was retained in the works and wove it with natural ambience doing away with defining lines. The performance explored the relationship between the person and territory that grows through a process of concealing and unveiling. Layer by layer it draws each other into intrinsically bonded relationships.     
8. I (as in India) | 
Shankara Art Centre, February 1999.
Organised by M.S.Umesh and Josef Ramas.  Artists: Shamala, Srinivas Prasad, Joachim Baur, Ramesh Chandra, Heiko Bressnik, Thomas Steiner, Karl-Keinz Klopf, Josef Ramaseder, Archana Hande, Anna Jermolaewa, Charlotte Wiesmann, and Raghavendra Rao.
9. Peep – peep Bangalore | 
Jayamahal palace hotel, March 1999
Curated by Stefan Bohnenberger, presented by Max Mueller Bhavan.  Artists:  Antonio E. Costa, Ayisha Abraham, Babu Eshwar Prasad, Christoph Storz, Pushpamala N, Ramesh Kalkur, Shamala B.J, Sheela Gowda and Umesh M.S.  
Stephan bohnenberger, a widely travelled artist from cologne, succeeded in inspiring nine artists from Bangalore to effect a joint exhibition under his curatory. 'A light hearted mockery of the art world public is at the core of the peep-peep Bangalore. The thrust, however, is on public spaces like galleries or museums that insist on certain dignity and prestige to the space to confer the status of art.  The peep-peep show in turn reveal the curator's implicit program; to interrogate, in mock-seriousness, the politics of display and of viewing…' (from the catalogue written by K.S. Srinivasa Murthy).
10. Ends and beginnings | 
Cooke town, Bangalore, February-March 1999
Ayisha Abraham, a site specific exhibition held over a period of one month with evolving installations, 
"On the eve of the demolition of my grandmother's old colonial bungalow, I requested the builder to give me the house for a month. So I might transform this site of memory into an exhibition site as the house. As the house stood emptied of its belongings I enacted a desire to see my work merge with the walls of the very house which defined an era of childhood memories…."  (note from Ayisha Abraham) 
11. Paper trails | 
Gallery Sumukha, 26th – 30th April 1999,
Curated by C.F. John, workshop at Visthar.  Artist: Yusuf Arakkal, Antonio E. Costa, Raghavendra Rao, Azis T.M, Ayisha Abraham, Aditi De, Jenny Pinto and C.F. John
The work shop was organized at the handmade paper unit at Visthar and the works exhibited at Chitra kala Parishat.  Artist initially spent a week together at Visthar campus, after that they continued to work from each one's studio.  In this workshop, attempts were made to look at material as an indivisible component of making art, with material and art bound as word and meaning, with special attention to natural fibre and paper.     
12. Sthalapuranagalu | 
May 1999
Curated by Pushpamala N. Artists: Ramesh Kalkur, Shamala and Srinivas Prasad, 
In 90's in Indian Art were marked by violent debates about 'installation' Art – usually bitter contest between supporters of painting and those who felt that the times demanded the breaking of boundaries and more open forms to deal with the new realities of an increasingly intolerant religious sectarian atmosphere, and to address the problems of that came with the liberalization and globalisation of the economy, seen as the swamping of the small and the local. 
I wanted to investigate Bangalore, itself as a site, stretching the meaning of sculpture into monumental public works. It was in a way to sort out my own confusions about a form that I was leaving behind, and to try to find new meaning in a place I had just come back to, a place quite different and much more complex than what I had left. The curating and organising of Sthalapuranagalu then, became my own art work. 
13. Warp, Woof, weft | 
Kannada Bhavan 27th – 29th, December 1999
.
"The idea conceived for this exhibition on a Friday evening, 10thDec 99, unlocking a dust covered metal box in the attic. The childhood clothes needle craft, odds and ends emptied, a trails filling in the gaps, memorizing recreating the past in a personal art boutique. The textile fabric in cotton and wood crafted, designed for the day. Some crafted by Mama in home science and later. The samples are memoirs, hobby she practiced and I observed and absorbed for the needlecraft curriculum in school, later to take a twist…" 
14. Sculpture and painting show | 
Sakshi Gallery, 1999
Artists: Shanta Mani, Ramesh Kalkur, Harsha and Babu Ishwar Prasad
15. Ramesh Chandra |
Chitrakala Parishad, 1999
"Ramesh Chandra's artworks are autobiographical in an unusual sense… though initially it seems that the usage of his 'own' image to speak about the 'loss of the self' is a contradiction. It should be noted that it is a self-portrayal of a selfless kind".  (from the catalogue, writes H.A. Anil Kumar)  
16. All that is solid melts on the air | 
Gallery Sumukha, 12th – 19th, August 2000.
Smitha Cariappa in collaboration with Tripura Kashyap.  
17. Kulu – Mukthi | 
Chitrakala Parishat, 2000
Srinivas Prasad.
18. Sliced- Spiced–Glazed | 
Alliance Francaise, 30th August to 1st September 2001
Smitha Cariappa in collaboration with studio potters, Synthia, Suzan and Hams Vardhan, 
"Through the dialects inherent in her installation, Smitha contends with the familiar yet alien codes that food speaks though, and the fact that it transcends both religious and social barriers. In non-strident senses, she explores the sociology and economics, the politics and culture that feed our appetites day after day".  
19. Sakshi Gudda Sakshi Gode | 
University of Agricultural Sciences, 2001
Sheela Gowda
'Sakshi Gudda', is the term for the pillars of earth left untouched for measuring the quantity of soil excavated in an earthwork. Sheela's interestwas in these pillars of earth left behind with the vegetation on the top, their sculptural presence, and its meaningfultitle.
Within the green cover of University of Agricultural Sciences, was hidden a semi-circular wall, about 50' in length and 15' in height, in front of which was a circular pit of 30 ft. diameter. It is an abandoned target practice shooting range, elevated to the status of a lover's den…making the original purpose redundant, with nature here in a subversive role.
 The work involved a walk through this landscape. A walk through the shrub terrain, rocks, the debris and finally through trench from being ankle height, it meanders through the ground, cutting through the layers of soil and garbage to a point where the eye is in level with the grass. 
At its end, on the semicircular wall a Kannada folk poem,is engraved: 'Who shall I think of when I rise at dawn, let me think for a moment of Mother Earth, giver of sesame and cumin'. 
20. On the edge of volume – sculpture – installation – connections | 
Sakshi gallery 15th – 18th July 2001
Curated by Marta Jakimowicz, presented by Alliance Francoise.
The first impulse to have the exhibition came with realizing that almost suddenly there has appeared a body of work by very young artists dealing with broadly understood sculpture. Although often solid in volume, it also opened, subverted and handled through non – not obliviously three- dimensional means. These artists feel free with diverse materials and methods from intuitive directness to expressive- cum- conceptual reshaping of it, to poetic signage and performance…"  
21. Walls of memories– an art event of unresolved edges | 
Visthar, 7th – 8th February, 2003
Initiated and organised by C.F. John supported by IFA.  Artist:  C.F.John, Azis T.M and Tripura Kashyap, Music & Lights: Bharat Sharma.
This is a site specific art event in and around an open well using installations, dance and photography. Open wells have been central to most civilizations for thousands of years and have served as private as well as collective spaces for communities living around them. Now, these wells are becoming history, and vanishing with them is a cosmology that they represent.  
During the preparatory phase we interacted with the community of Narayanpura to understand better their relationship with wells. They spoke of wells they had dug, wells drying up, bore-wells replacing wells, ground water levels receding, and of the changing professions and life styles.   
In the 30 ft. space from the ground to the floor of the well, every moment of our working oscillated between the gravity of the body and the realization of everything that is vanishing – the end of matters that mattered. Hence working on every form was an attempt to explore the enigma of our relationship between what we are and that which is disappearing, between what is present and what is absent. 
22. Facing the wall | 
Kannada Bhavan, 19th – 21st February 2003.  
Smitha Cariappa in collaboration with Tripura Kashyap. 
23. Work under progress | 
Samkalpa Art Studio, February 28th, 2003.
Site specific work and performance: Srinivas Prasad.  
"Srinivas works with nature, seasons while using locally and naturally available material. 'Work Under Progress' is essentially in progress for it is not a finished product and growing continues until it perishes. Perishing may not make the entire work into mud or some other element. But turns to a state of raw material to be used once again for another work" (writes Ranjani Shettar in the handout)
24. Quilted – installation, Dance, Photography | 
Gallery Sumukha, 9th – 10th May 2003.
Initiated and organised by C.F. John. Presented by Visthar, supported by IFA.  Artist:  C.F.John, Azis T.M and Tripura Kashyap.  Supportive artists: Raghavendra Rao and Surekha. Music / Lights: Bharat Sharma,
"…We expanded the scope of quilts from their associations with domestic spaces to assimilate and interweave larger artistic processes. In "Quilted" we chose to mesh together narration / elements from artistic journeys and events that have taken place over the last decade in Bangalore. These attempts resulted in bringing forth new materials, forms, language and space. In 'Quilted' these expressions are represented as virtual images and art objects placed or intertwined with intimate gestures of the body.
This event acknowledges initiatives undertaken in Bangalore to re-define certain parameters of art, which included exhibits as well as creative processes outside gallery spaces. These shows also have led the artists to re-visit the linear conventionality of a gallery space and re-investigate options of how art objects and body can be placed and viewed…". (from the handout)