A prop specific art event using installations, dance and photography , supported by India Foundation for the Arts (IFA), presented by Gallery Sumukha and Visthar, Bangalore
Participating Artists : C.F.John, Tripura Kashyap, Azis T.M, Co-Artists : Raghavendra Rao, Surekha, Music / Lights : Bharat Sharma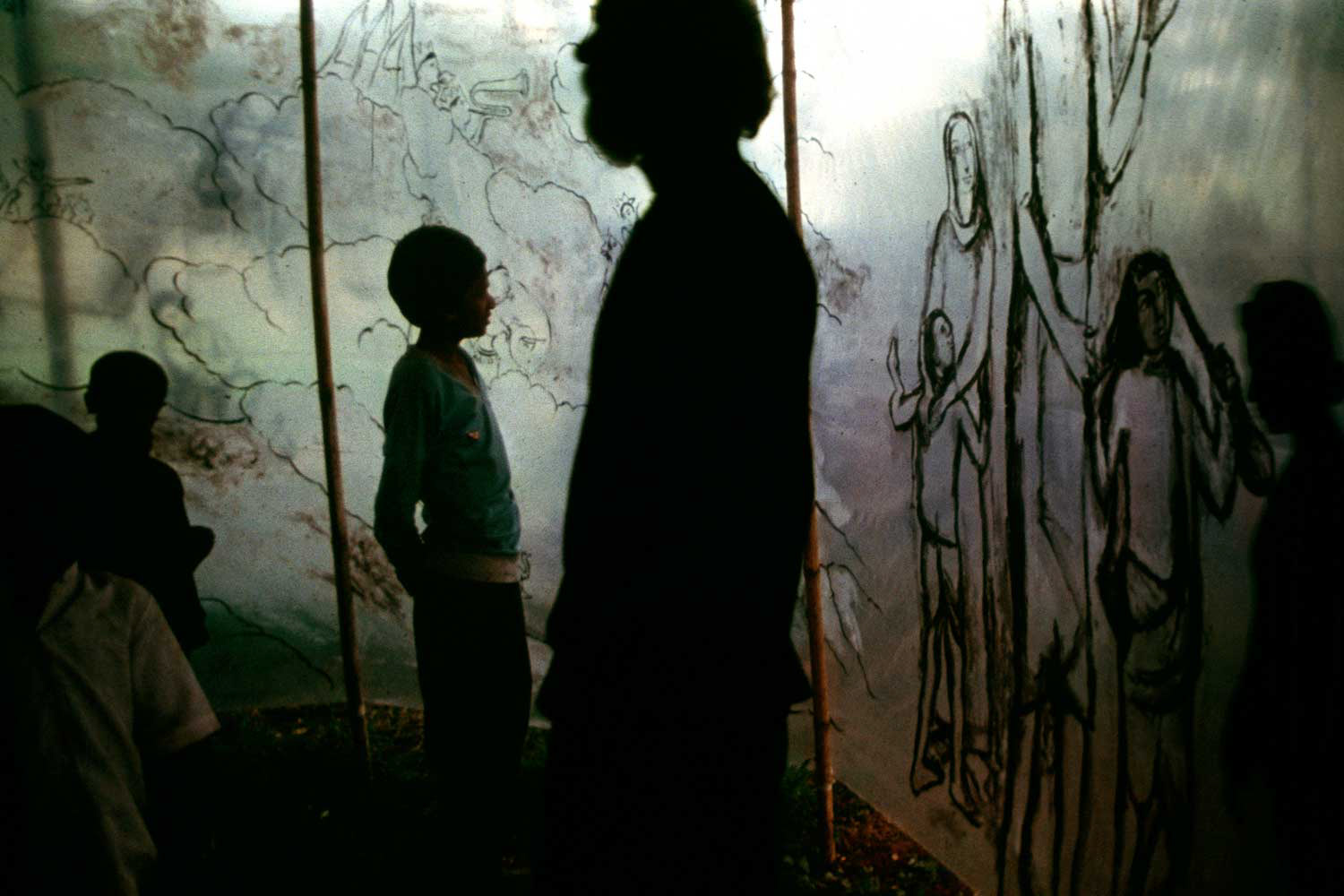 Quilted was both a celebration and problematisation of personal memories and experiences of artistic journey in Bangalore, from 1993 to 2003, that explored new materials, forms, language and space.  This gives glimpses of those art activities  indicating a time, an order and a relationship
We had to keep in mind that many who attend the 'Quilted' would be uninformed about the artistic journey of the '90s and the references the show makes. Regardless of the fact whether the participants are informed or not of the art events referred in 'Quilted' we thought the quilted should have a completeness of its own.  At the same time it should serve as an invitation to construct a memory of something, which the viewer has never seen. To help this process we also documented and presented a chronicle of all the art events during this period.
But for the artists and viewers who have been part of the artistic journey of the '90's the 'Quilted' serves as a creative replay of that journey. Which help to unknot its enigmatic message. It was to churn the creative process of unresolved art activities of the past, not through conventional analytical methods but through forms of art itself.  
The quilted was an attempt to explore how tracing of artistic journey itself can be a work of art, contrary to the practices of merely documenting it. In Quilted we cannot distinguish between the art and the artist. Both are woven into the quilted, where 'half forgotten incidents give birth to stories scripted in threads'. It presents itself as a 'patchwork of comfort and warmth' along with  'remembering a touch on the bruised body'.  
During the process of making this prop specific event, we worked with multi- disciplinary art practices, mainly installation, dance and photography. Two installations  from ' Silence of furies and sorrows – pages of a burning city' and 'Territory- an art event' have found new translation while retaining their original material in this event. 
Elements from various art events have been fused with new forms to create photographic imageries and choreography. They were presented as virtual images and art objects placed or intertwined with intimate gestures of the body.  The body synchronizes with or counters these forms and images through specific gestures, postures or movements. The dancer uses a series of pure movements in juxtaposition to narrative gestures that connect quilts with other forms/objects. 
The Quilted is also an invitation to celebrate challenges of collective creative journeys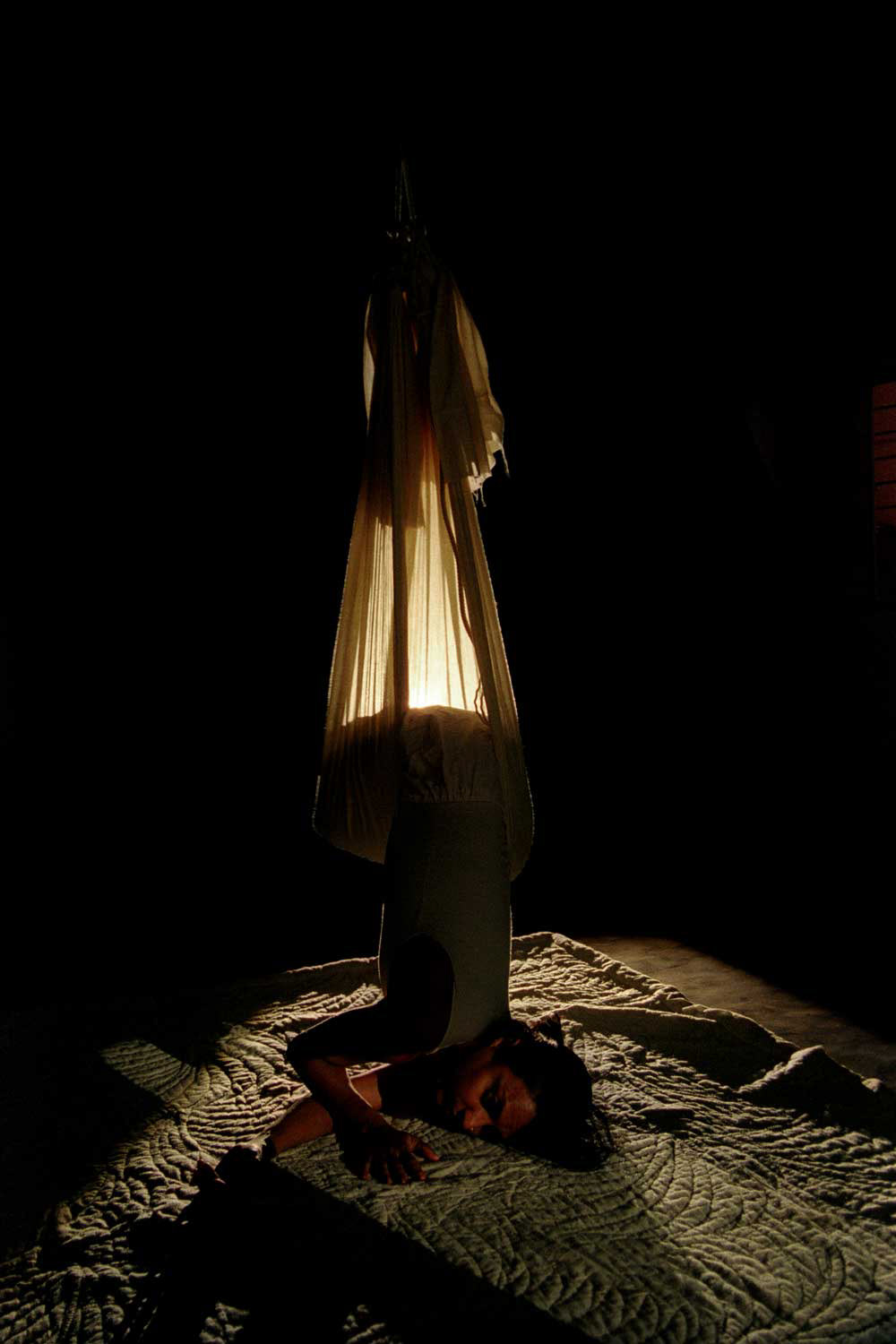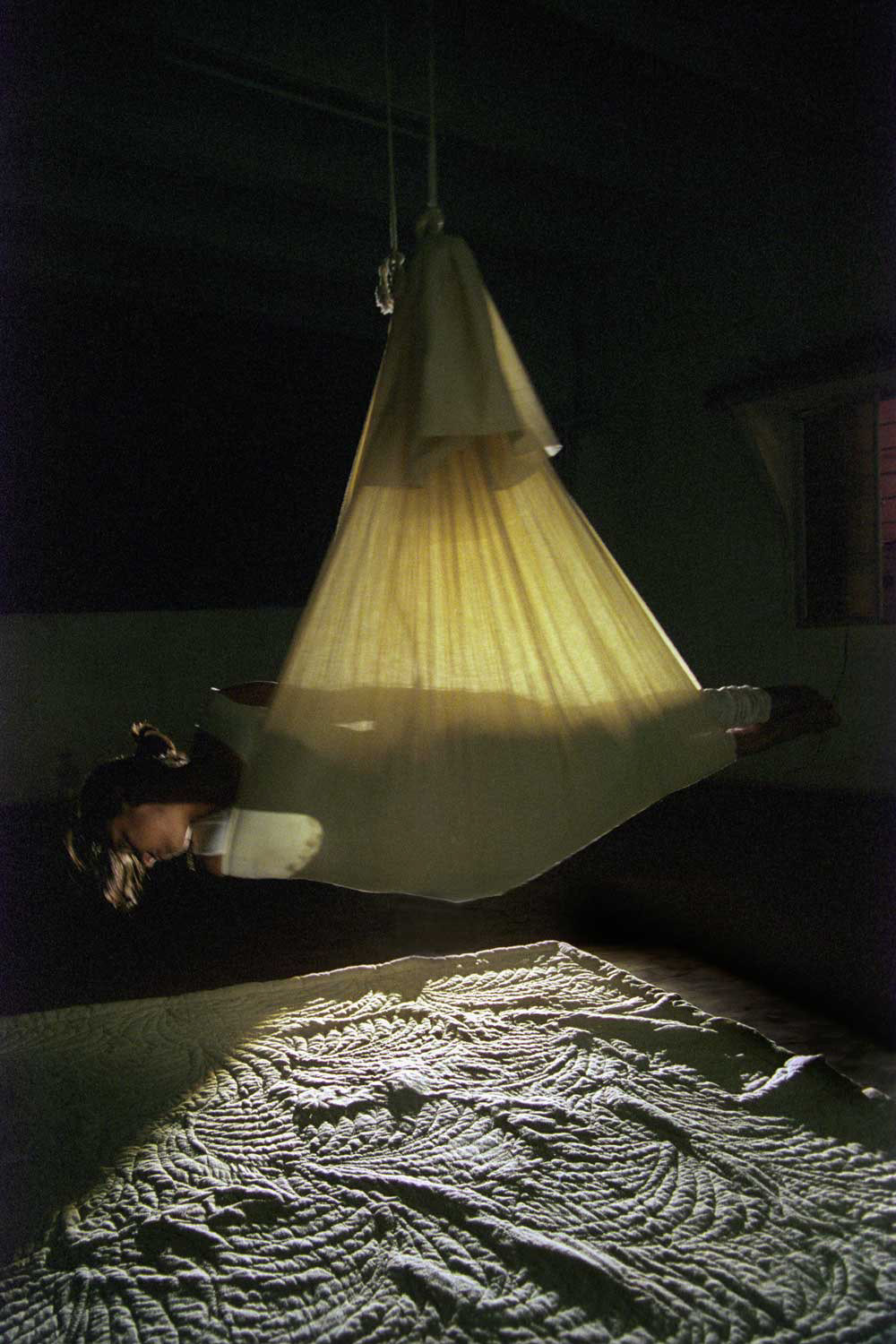 Bare feet walk towards
Patch work of comfort and warmth.
Hands drag a quilt across, body curls under it.
A journey from silence to sounds
of wind chimes and rain.
Pieces of conversation drift in ...
When sore fingers feel the heat of honesty,
half forgotten incidents give birth
to stories scripted in threads.
How much to reveal, how much to hide?
Fantasies, nightmares, dreams and lives
merge on quilts.
A magic flying carpet in disguise?
Stretched far beyond its stitched boundaries.
Images rush past... revealed at random…
The body is woken up by something that
dreams left behind,
or is it a moan from that quilted cradle?
A hung quilt makes restless shapes in space,
holes carve themselves on its surface.
an endless wait,
to envelope eager bodies.
Twilight reflects loneliness felt under its layers…
A soul shrouded in secrets,
trapped and wrapped
still remembers a touch on the bruised body.
Heartbeats halt. Quilts cover the cold of death…
C.F.John, Tripura Kashyap, Azis T.M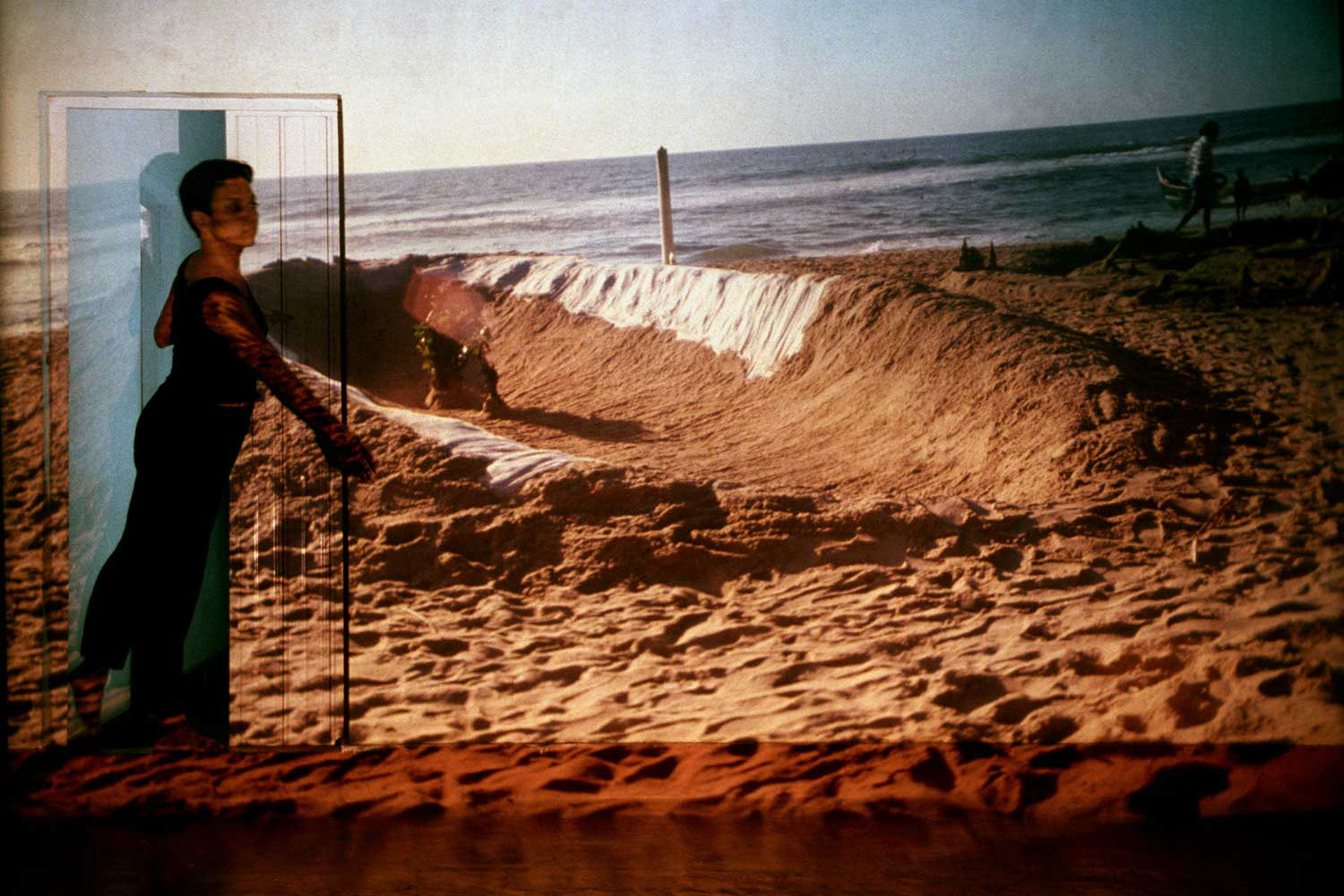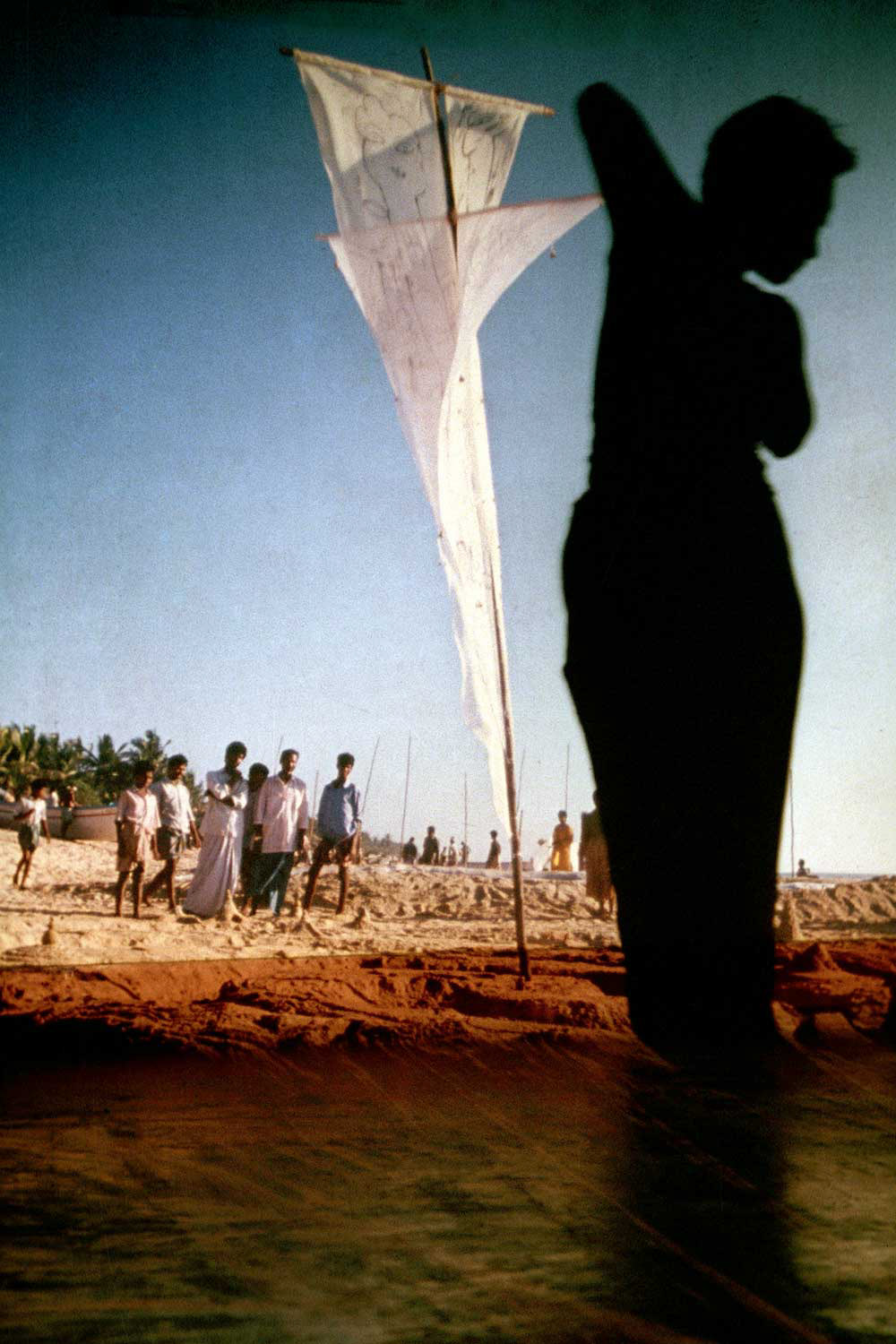 Visual ref.  C.F.John and Azis T.M.,  Celebrating Mangroves, 1999