An exhibition of installations and performance at Venkattappa Gallery, Banglaore
Participating Artists : Raghavendra Rao, Ravisankar Rao, Amaresh U Bijjal, Ramesh Chandra, Shantamani, Nandakishore, Tripura Kashyap, and C.F. John
In the last week of October 1994, Raghavendra Rao, Umesh, Ravishankar Rao and I facilitated a workshop with a community who perform Bhutakola at a place near Venur close to Dharmasthala. Ramu, if I remember his name correctly, had asked me to do a workshop there. It was a remote village with an interestingly contoured landscape. Houses at distances from each other as in Kerala. We spent four days or so there. During our stay we painted both the inner and outer walls of houses, illustrating some of the mythical stories from their performances. These mud plastered walls were smeared with cow dung. The idea was to guide the residents to draw stories of interest to them. We therefore used stylised human images that were easy for anyone to draw.
There was one story that connected the sky, the clouds and the high mountains. And the other one was to do with how the waters in different water bodies are connected through underground springs and channels. It was about how a fish survived difficult times because of this interconnectedness.
The contoured terrain with indigenous trees and vegetation, fresh air, stream, mythical stories woven with sky, clouds, mountain, springs, wells and underground water bodies, and ritual performances -- our drawings on the cow dung smeared walls, rainy nights with leaking roofs and our sleepless nights on freshly made dampened mud floor, and washed earth, tender lights, fresh palm toddy and laughter. Our young bodies and spirits were light, freed from any burden - young earth that we were.
​​​​​​​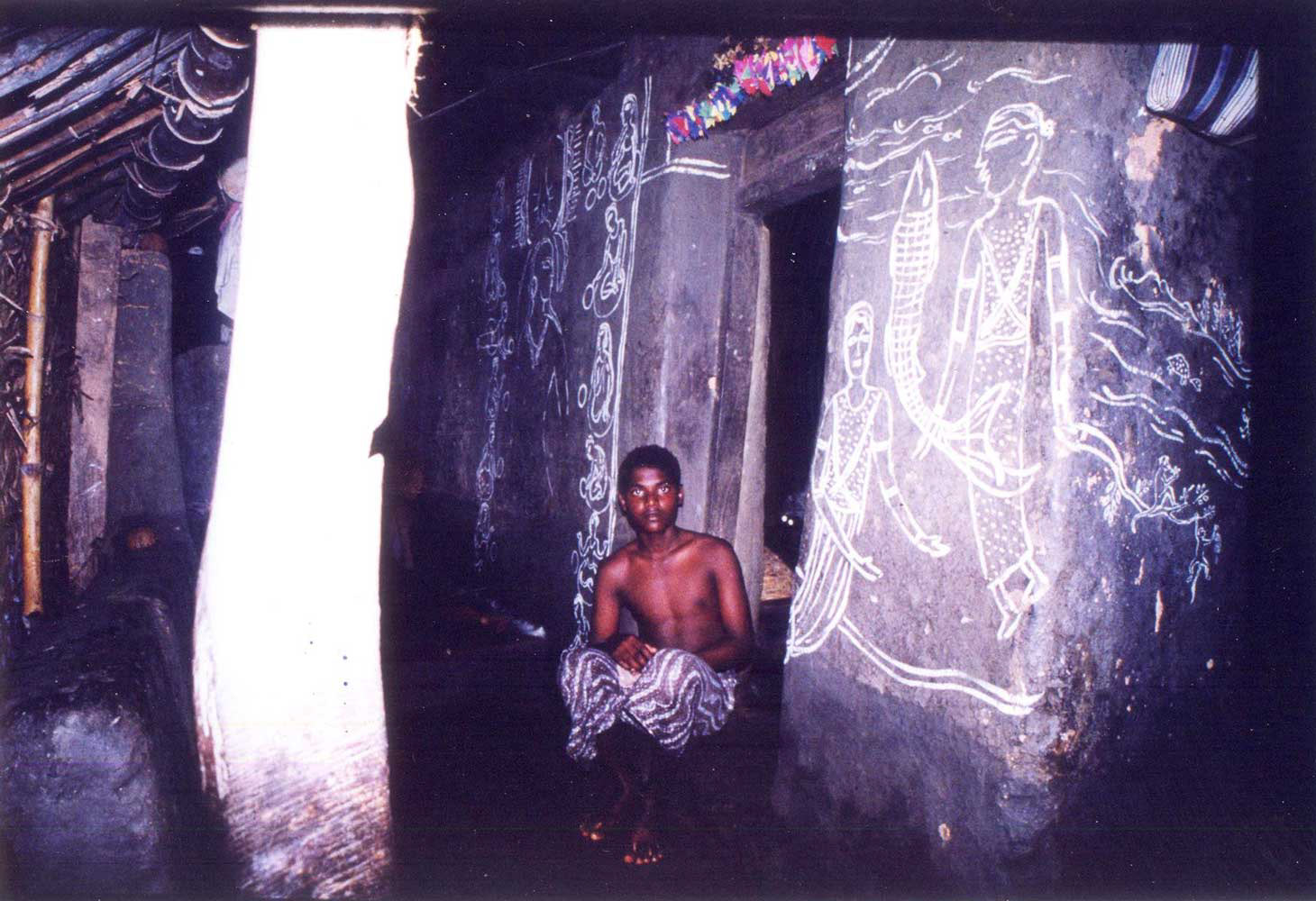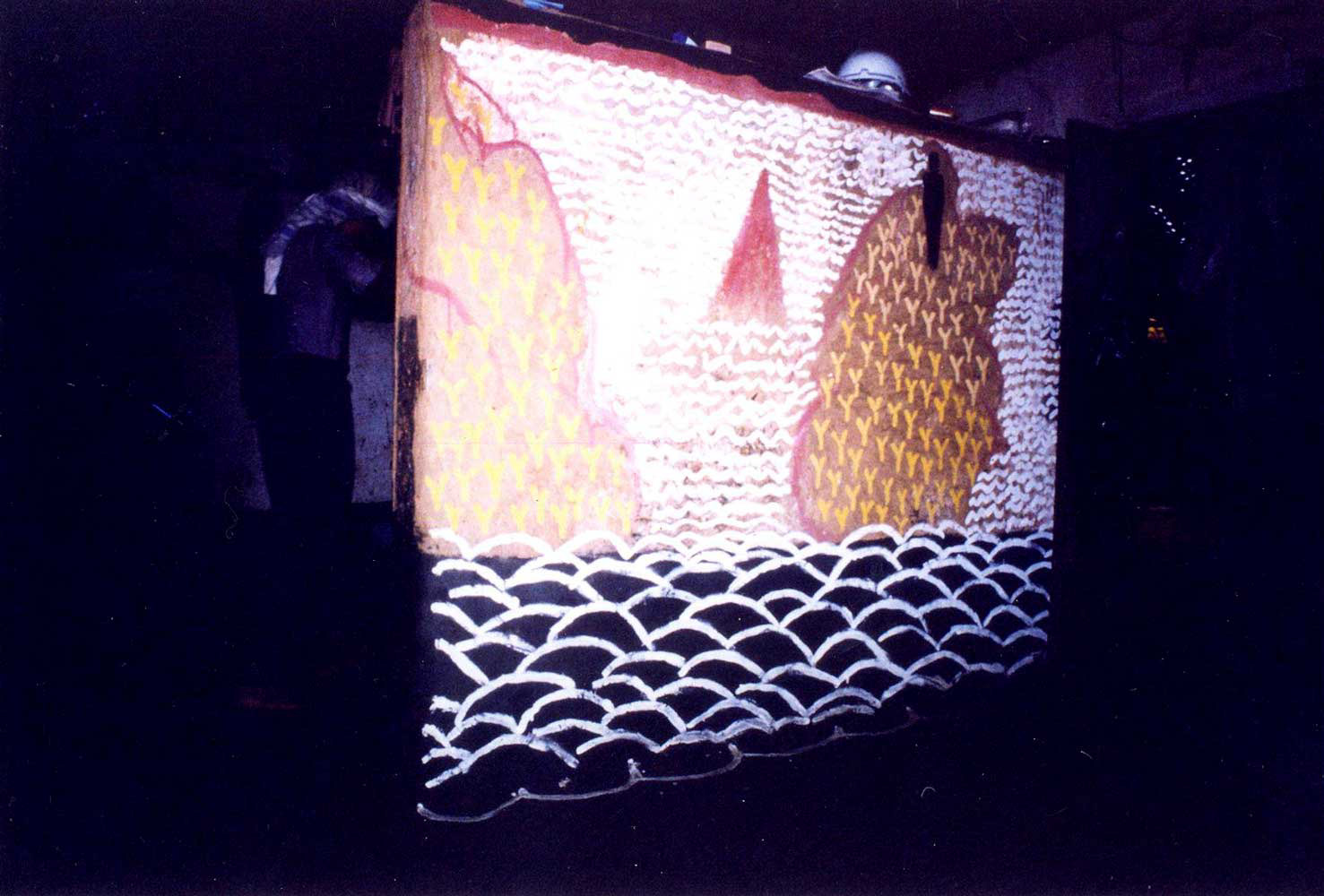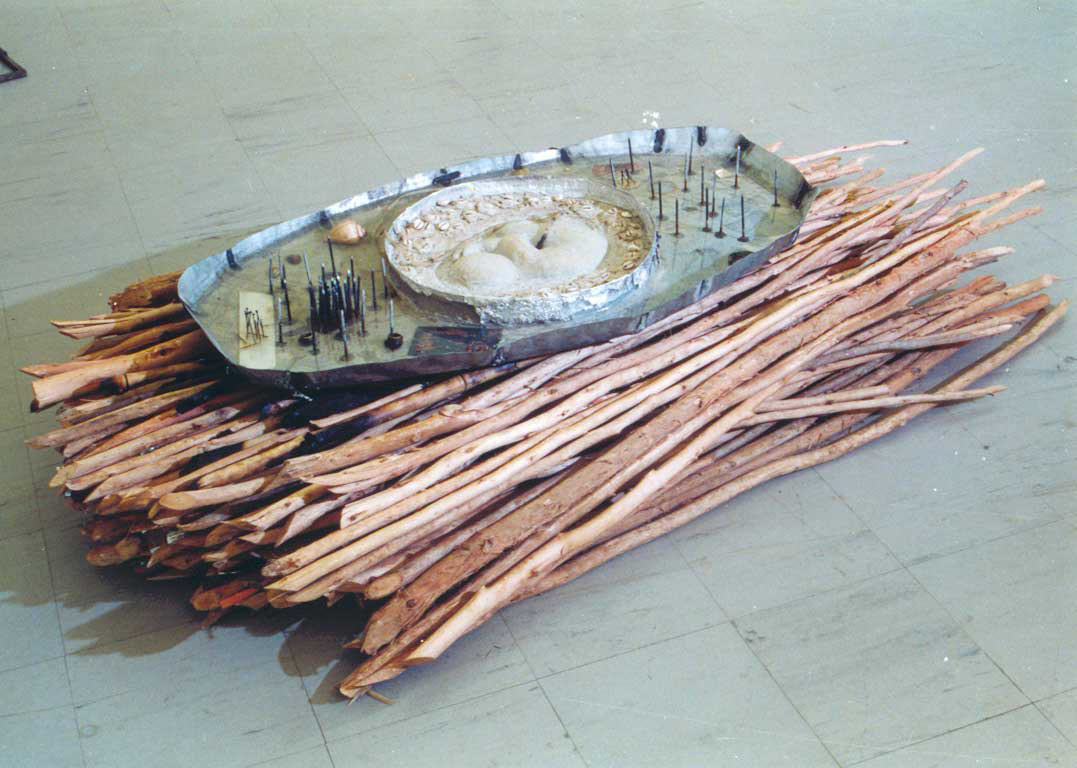 Cut way from news and the topical national discourse, we were unaware of the flaring of a riot in Bangalore followed by an Urdu news bulletin. The immediate question before us was about how we could reach Bangalore safely. Once there, how do we then reach our homes? This news was like a rain of fire on a wet forest burned me from within. An uneasiness swirled. The haunting memories of the riots of 1992 riots returned to life. Like rats rushing to its holes we escaped into hour homes. Saw the news on TV and newspapers.
Days passed, and the routine headlines began to appear -- 'Life in the City has Returned to Normalcy'. Shutters reopened, vehicles restarted, business as usual. I asked myself, how could life become normal so soon. Is it not a violent leela (play) of suppressing our own trauma, erasing our ability to perceive and be affected by the life that surrounds us? The system of business and personal success takes over, controlling, affecting, engineering our lives. Profit, success and identity drives us at the cost of self-consciousness – our ability to feel, take cognizance, connect, and discern. And we allow ourselves to be swamped by the vicious system.
I felt we needed to work towards a creative response, therapeutic in nature, by holding a mirror to ourselves. To understand the interconnections of violence in modern urban living, specifically referencing the toll of this riot. I called Raghavendra Rao to discuss the possibility of working together for a show around this theme. With him, we made a list of artists who might collaborate in the project. Visthar agreed to extend some necessary support. In early December, we gathered to think about what could be done. The artists were selected based on their orientation of thought and sensibility, taking into account how each could complement the other.
​​​​​​​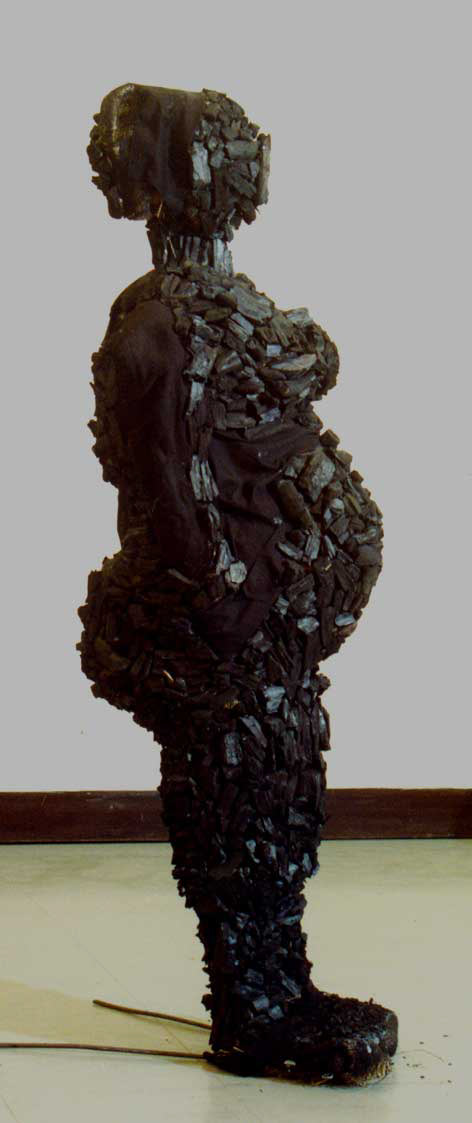 Left: Shantamani, Right: 

Amaresh U Bijjal
Initially we often sat in the open plot next to the Ken School of Art. We shared how each of us were affected by riots, stories we heard and the concerns we carried. After this, I felt it was important we visit the communities that were affected physically during the riot. We spent two days arguing for and against visiting the community. This could have been an endless philosophical debate. The argument not to visit came from a strong sense that though we did not personally witness or were physically affected by the riots, we still lived in and shared the time and place with the communities affected by it. The stories of experiences and news are more than real for us. And we know the violence within and its connections. Having an authenticity of its own was enough to make us grapple with the issue. This also came with the fear of how the visit to the community could restrict us to the actual references we gather.
However, we finally decided to visit the communities and spend some time with them. An immersive process can have its own effect that is worth submitting oneself to it.
We walked the streets, entered burned houses and a school, met weeping women, helpless men, and numbed children. They spoke of how they saw their close friends from the other community, even those with whom they had dinner the previous night, come with a mob of goons to loot and burn their houses. Children watched their school along with the books, desks, benches, and shelves going up in flames and turning to ashes. We walked gently over the ashes. Silent, weeping, and the sounds of untellable emotions all congealed and weighing in on us, stripping us naked, dissolving our identity: names, profession, and knowledge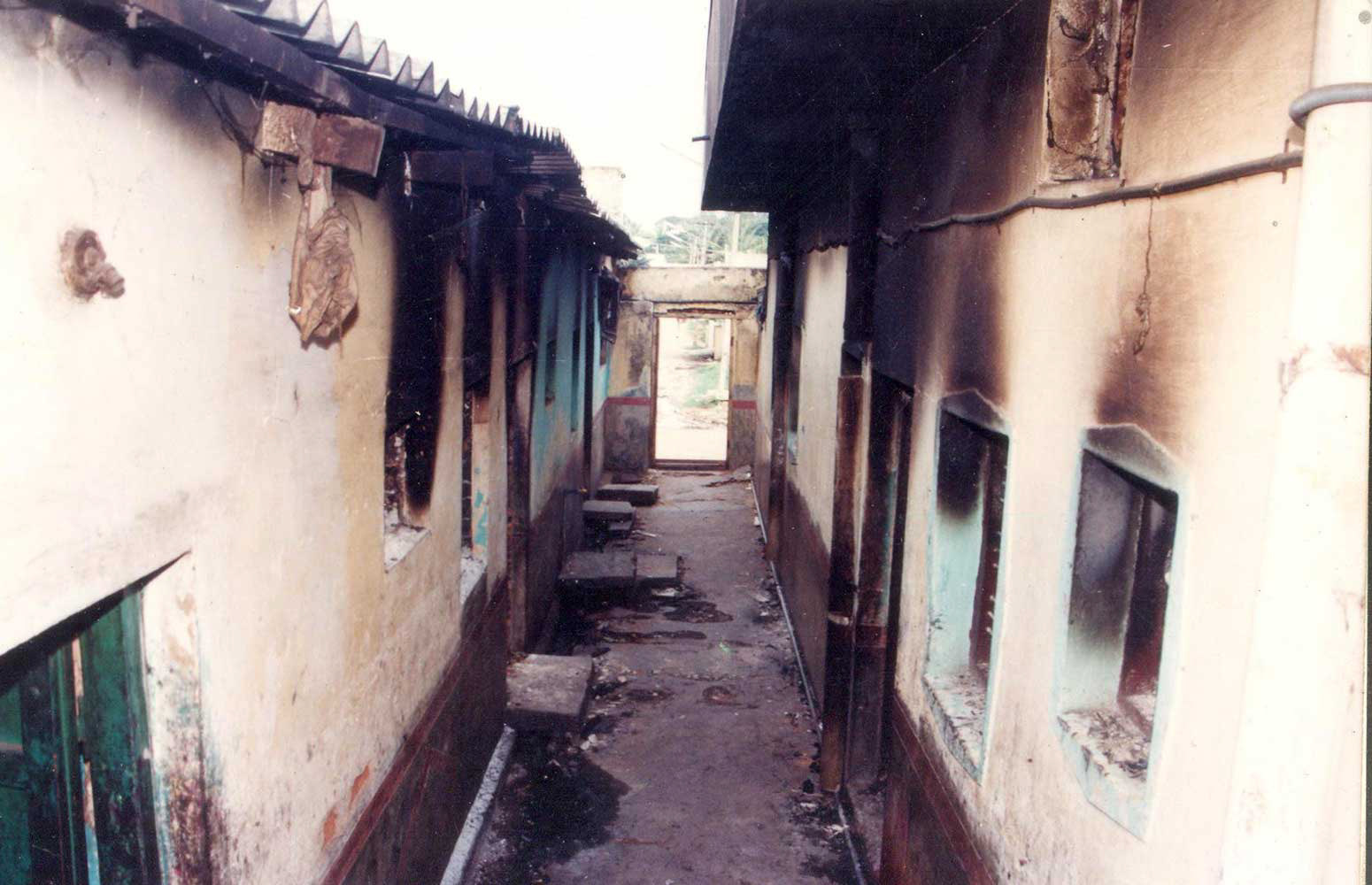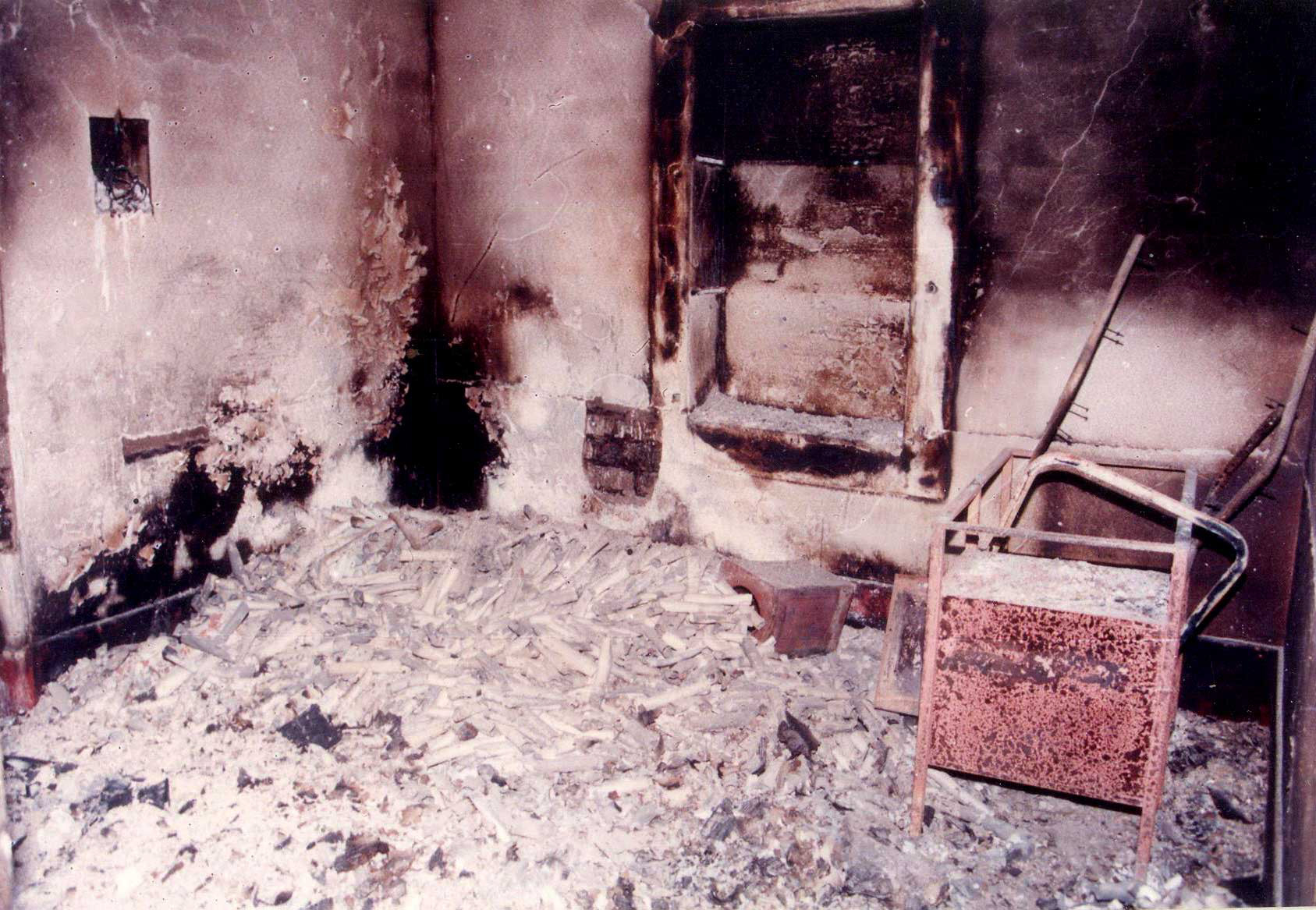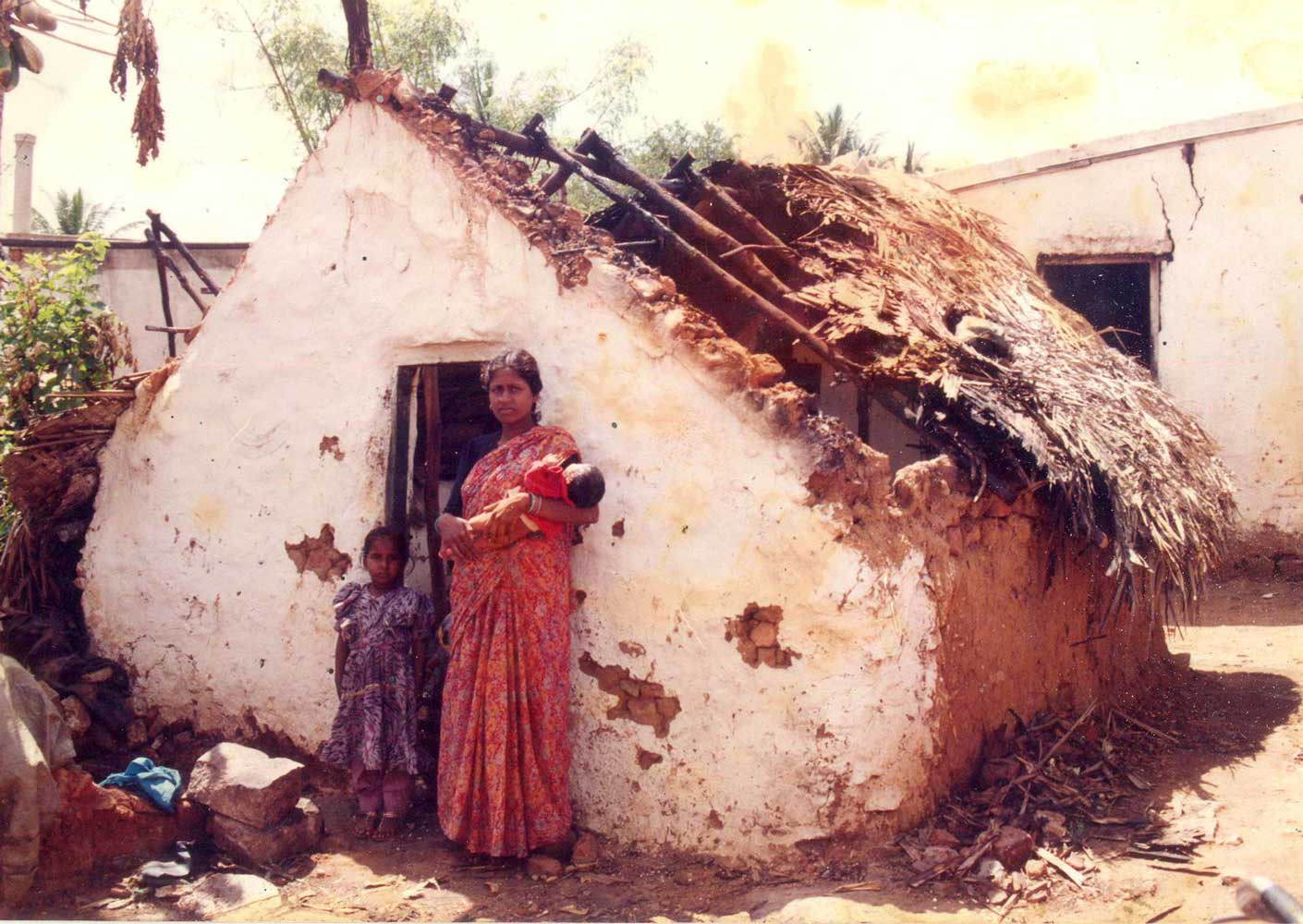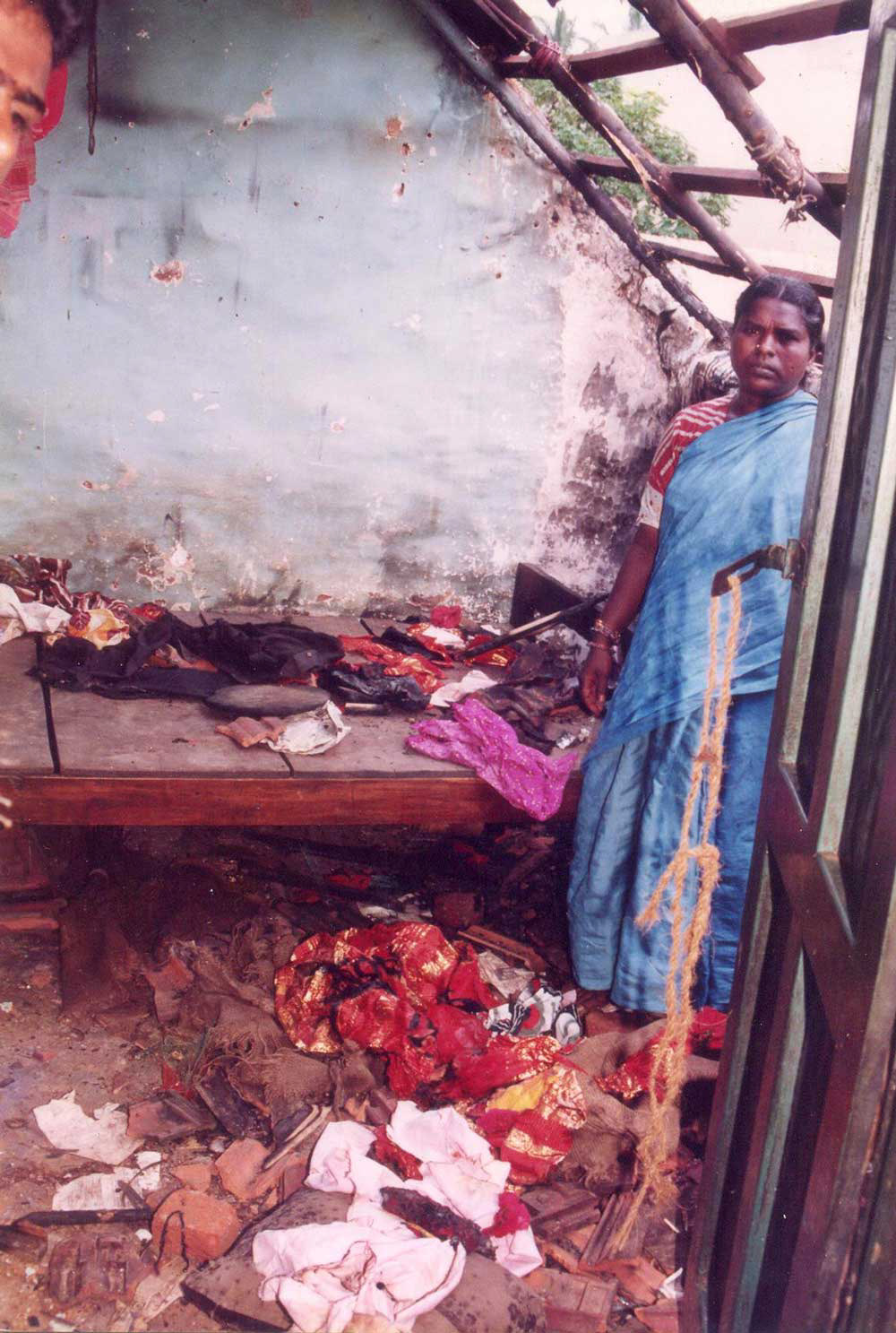 During our time with the affected communities we facilitated a workshop with the children of a school that was burned down during the riot. We told the children the Jataka tale of the Sala Tree and invited them to create forms using clay. Their creations focused on various aspects of the story. We felt it was important to not make the children ponder on the riots directly but to use the context to instil a transcending and nurturing vision of life, beyond personal desires, ambitions and reprisals. Among the works, there was one in which the tree appeared to the king in his dream and conversed with him. The young artist had portrayed both the king and tree standing together in the flood confronting a shared reality/fate. This helped the king to recognize how all are connected through fate and our choices matter for the health and well being of all.
​​​​​​​​​​​​​​
I felt I walked through a burned terrain that I knew already from stories in my childhood. One of the performers of mookan chattan (a performance with a mask that has protruding eyes and tongue sticking out) from manalikavu pooram (an annual festival of the nearby Manalikavu temple) told me a legend of two communities once fought over taking a dead body to the graveyard by a road in front of Manalikavu Amma. The legend says, this caused a mat width of ripe paddy in the nearby field to burn all the way till the burial ground so that the body could be taken there. Seeing the situation the compassionate Manalikav Amma decided to move and spend the time near a pond when a body had to be taken by that road in the future. Peace prevailed. The gods knew each other and similarly all those believed in those gods also knew each other.
I remember a similar incident from my childhood. This happened in Eyyal, a village about three kilometres from my village, Vellattanjur. A woman died and people from another community protested against her burial in the graveyard. Within hours, people who were friends, who shared labour, and who ate together turned against each other. I still fail to comprehend these blinders today. The body of the woman started decaying. But to my mind, the minds of the living decayed more. The courageous and timely action by a cousin gave some lease of time for both the communities to sit and negotiate. If I remember rightly, it took six days to come to a resolution.
These stories and incidents had created in me a sense of foreboding that all that we think as real can turn upside down. But there was also hope that all wounds can be healed, with courage and caring attention. What compelled me to invite my artist friends in Bangalore to work with me on the project, Silence of Furies and Sorrows – pages of a burning city was to confront this fear of anticipated terror and find healing.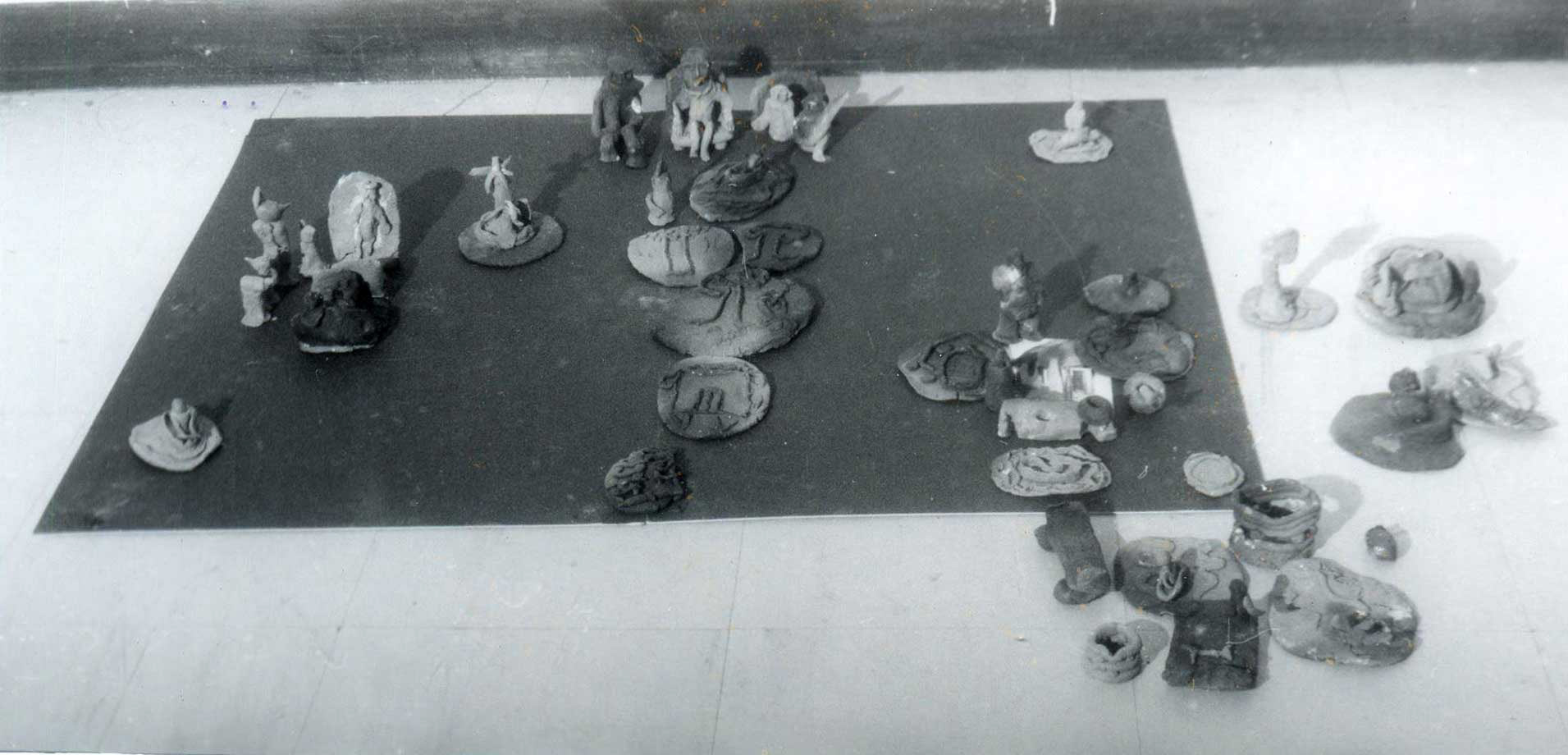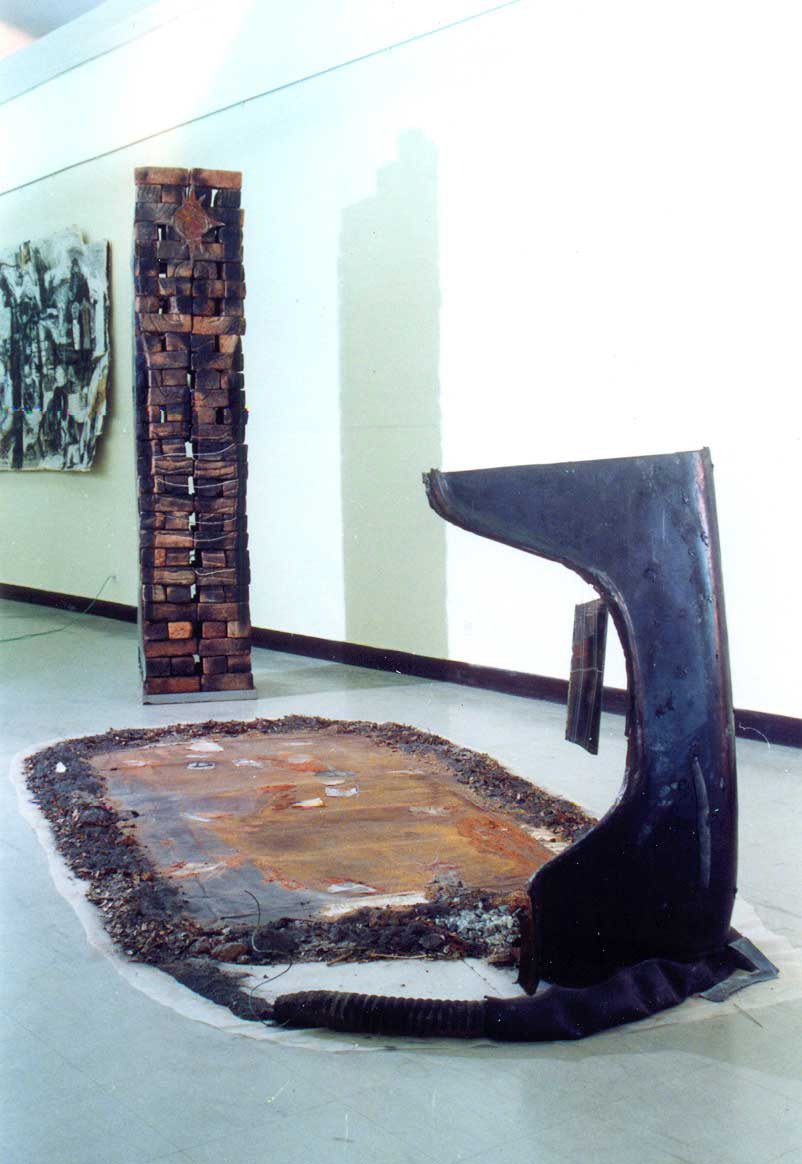 Left: C.F.John, 

Tripura Kashyap; Right - Raghavendra Rao, Ravisankar Rao, C.F.John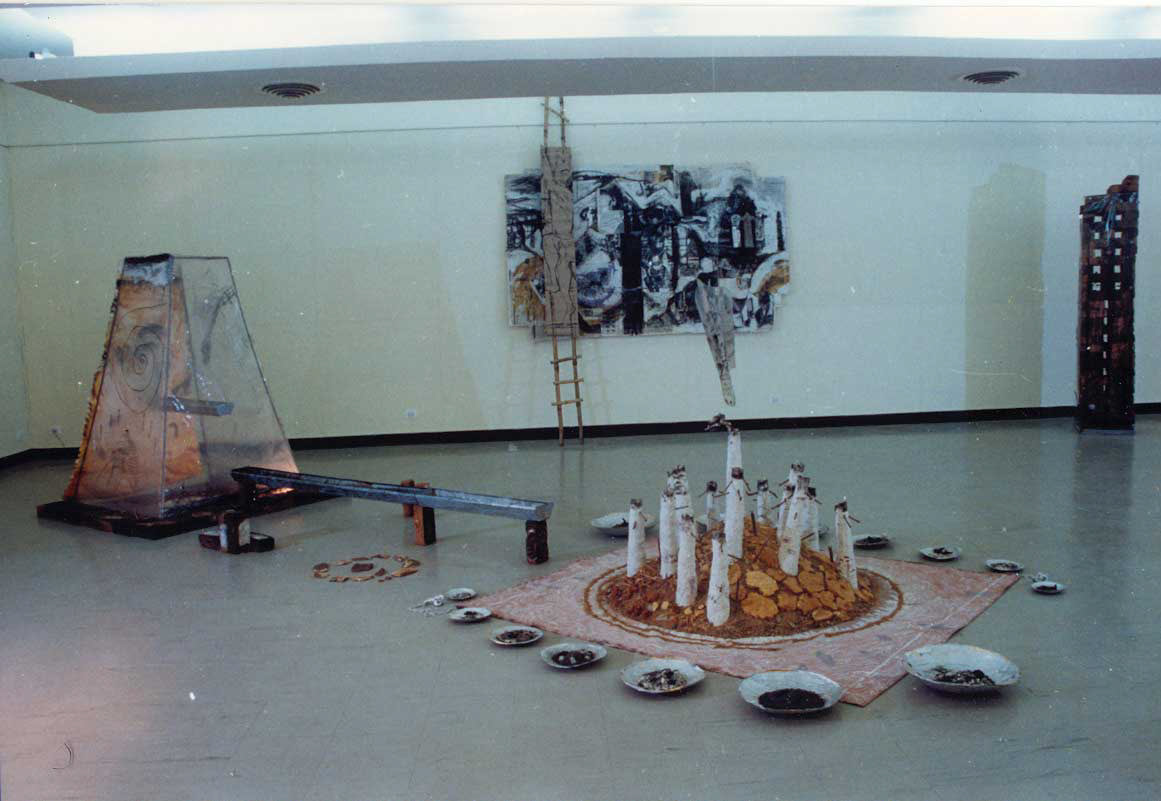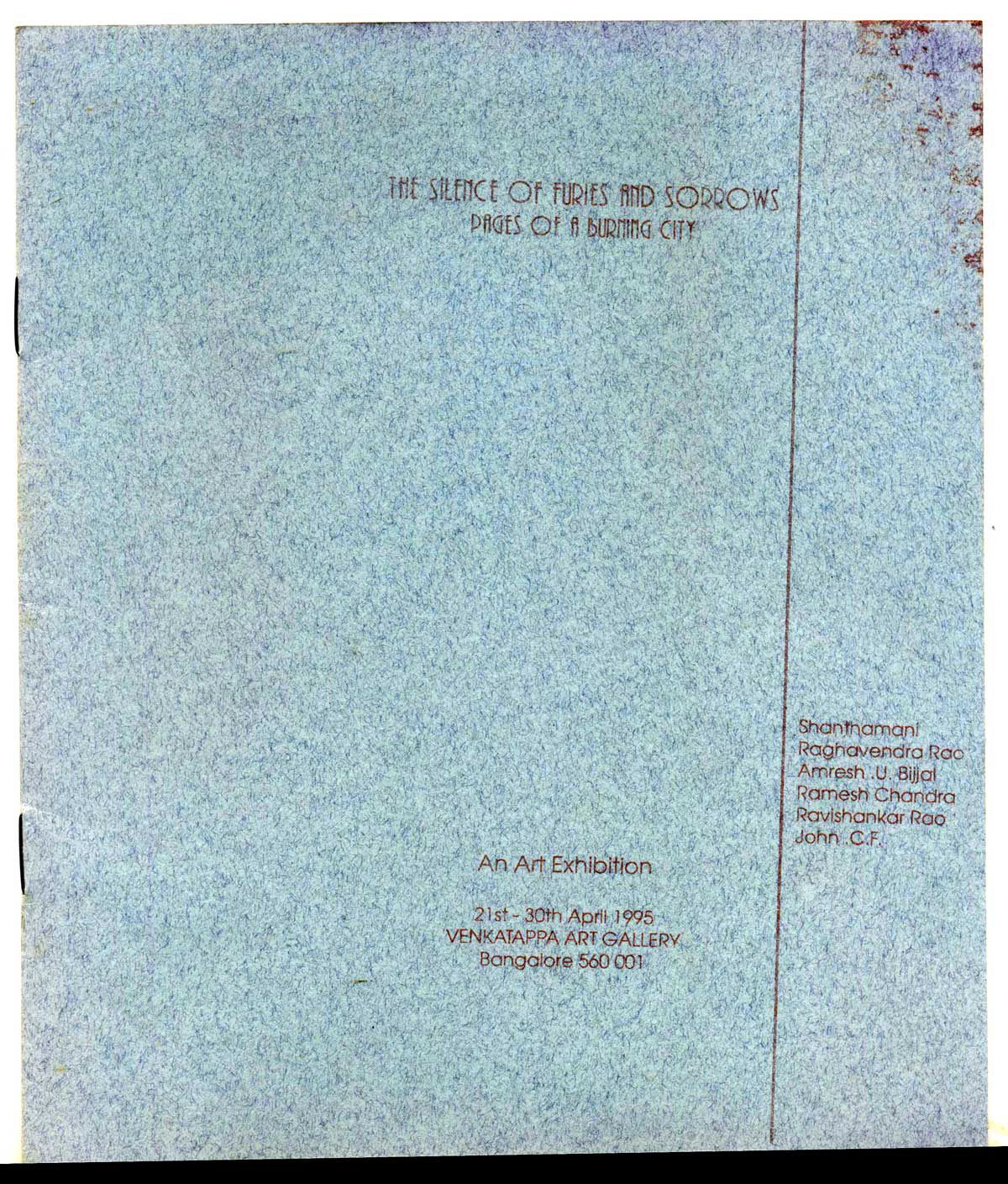 "I survive in the midst of the sea, Alone and so crazily wounded, So solely persisting, woundedly abandoned"
The violence in our city in recent times motivated a group of artists to find forms to express the agony as well as the inherent hope of a people subjected to the brutality of communalist and fundamentalist forces. The riots left the city with many raw wounds. The dead were reduced to numbers in the media. Some were compensated. Many stories remained unheard. The fire was extinguished and we were left with smouldering ashes and ravaged hearts recounting losses of limbs and loved ones.
The perception of colour is reduced to a minimal palate earth colours, black and white, creating a uniform scheme of starkness. Images from the past recollect many forgotten faiths, brick walls that divide us are transformed into pillars with archetypal symbols that sustain our existence. Fragments from the media are woven into collages of hopes and anguish. Tangled bodies of steel trace contours of humans hung like animal carcass. While a black mother is reconstructed with coal, a Jataka tale of a compassionate Sala tree is retold in clay by the riot affected children. Reasoning, remembering and resisting the violence of our times.
This is yet another attempt to sustain the humanity with faiths and bind us, as we refuse to let the politics of hatred and intolerance ruin us.
"And one morning all was a flame 
and one morning the fires the fires
the fires came out of the earth
"Mangled bodies. Gutted homes. Buildings razed to the ground. These are mere impressions - unpalatable flavors of destruction, torment and tribulation. Eminently forgettable; these flavors, however tend to linger…
Recreating these traumatic scenes in their artistic language was a painful and soul-searching experience for a group of six artists from Bangalore. The Silence of Furies and Sorrows - Pages Of A Burning City, an exhibition of installations using diverse mediums and materials, serves as a vestibule to a startling and unnerving realm where chaos and ruination are the order of day.
The group, which has been working on projects based on key social issues for about ten years now, launched into the latest venture in January. This time, it was the anti-Urdu news riots that roused the artists. After a hundred days of exhaustive research and toil at artist Sheela Gowda's studio, the exhibition was finally ready.
A penetrating insight into the psyche and misery of the riot victims was possible only after extensive interaction with them. The artists spent days listening to tales of woe of men and women whose homes had been razed to the ground and a group of unfortunate children whose school was burnt down in the brutal paroxysm of communal disturbances"…
- Aarya - The Sunday Times of India
"…Recently in India a spate of 'Installations' have cropped up at various museums and galleries… Unfortunately many of these were reduced to an act of gimmick at best and resulted only in arousing the attention of the media and public, rather than the creative endeavor that ought to be, in seeking this medium's artistic possibilities. Here it is heartening to note that these young artists have very effectively achieved a fusion of artistic demands with the compulsions of social responsibilities, without compromising the aesthetic possibilities of such creative exercise.
At the first glance it is the aesthetic possibilities that are explored using various materials ranging from torn clothes, mud steel wires, bricks, tinpans and coal which attracts one's attention. Yet, it slowly involves the viewer into the complexities of the messages about the tragic events that reduces human beings into pitiable non-entities"...
- Yusuf Arakkal, Sunday Times of India
"…The exhibits speak volumes of the violence that tore apart the garden city in the last four years, leaving anguish in its wake"...
"…For the young people who interacted with the victims, the installation become a bridge between art and life and an act of conscience"…
- Marta Jakimowicz - Karle - Deccan Herald