Territory - An Art Event, a
n exhibition of outdoor and indoor installations on the outskirts of Bangalore.
Participating Artists : Raghavendra Rao, Ramesh Kalkur, Azis T.M., Surekha, M.C. Ramesh, Tripura Kashyap, 
and C.F. John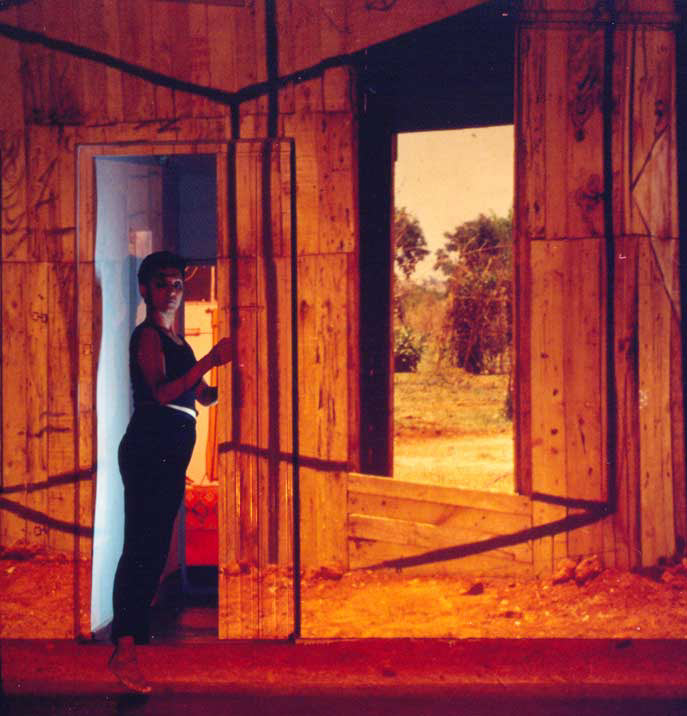 In 1997 we celebrated 50 years of Independence. In this period, we witnessed another enigmatic change in our country. Rendering our national flag in plastic was symbolic of this change. Hitherto upheld values of the authenticity of the natural, the dignity of labour, and the beauty of the weave -- also metaphorically speaking, the weave of lands, communities and lives--were forfeited for cheap: plastic – an antithesis. It was the unfolding of a new kind of patriotism. I Love India became a new kind of love.  Then came Go India Go, as a build-up towards the 1998 Cricket World Cup. Our collective identity had begun its metamorphosis into a new discourse -- I hate, therefore I am. It was perceived as a necessity to hate something or someone, to affirm something.
Who really loves ... loves this country.
People who care for the soil and life of this land beyond sectarian interests are its true custodians. It is only they who can truly love this country for they nurture and preserve. 
Since the mid 1980's, I was constantly in touch with the lives and struggles of the farmers, the adivasi, the fisher folk, and those who constantly faced the threat of displacement in the name of development. It is, however, these communities that play a vital role in this land, with its sensibilities, and a vision of interconnectedness and interdependence.
"Everyone wants Development".
The constant refrain ignores the subjective response the phrase evokes. An industrialist, an urban consumer or a white-collared professional sees development as something very different, perhaps diametrically opposed to the vision of a farmer, a fisherman or an adivasi. This difference also exists in the meaning of other words like love, territory, wealth, and control.
This event presented our collective musings on the tension between the conflicting notions of borders and territory.


C.F. John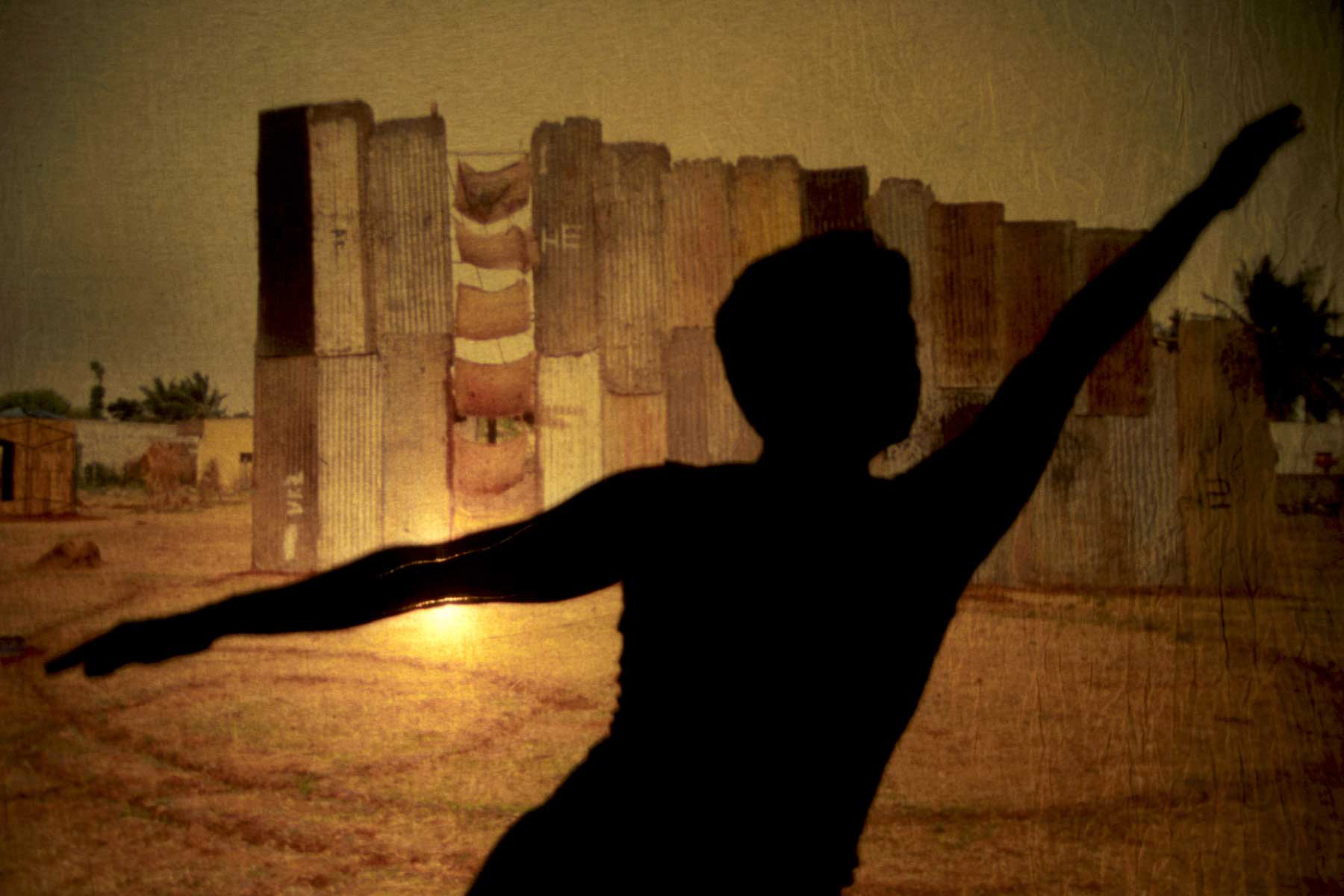 "A Time complete as an Ocean 
a wound confused as a new being 
encompass the stubborn root of my soul 
biting the centre of my security"
Our experience of territory and community are interwoven -- both shelter us and bind us in intimacy. At the same time we have stories of exiles and of exodus to dream territories. 
The meaning of territory has undergone changes from time to time. Generations have given meaning to territory and territory has given meaning to generations. Territory need not necessarily be an anthropocentric notion. Geography has its own territories, which make natural habitats even in the absence of humans. 
The body is born in the territorial waters of womb. The womb is the first territory. From the waters of womb the seed grows into an identity, with its own aura and energy, shaping our notions of taste, beauty, and cosmology. The relationship between the person and territory grows through a process  concealing and unveiling. Layer by layer it draws each other into intrinsically bonded relationships.
I grew up learning about earth, ('Kumb') seeds human labour etc, though myths, which revered Eros and Life as the highest of all. I asked a farmer (with whom I used to go for fishing, during my childhood, who taught me about water, fish moon and so on), 'what is the greatest sin?' He answered: 'Stealing of food and water.' If he is alive today he would have corrected it as ''seed and water''. Loss of seed and water results in desolation of territory. 
Today we experience globalisation of markets and homogenisation of culture on one side and increasing ethnic and communal divide on the other. The search for national identities is taking place simultaneously with the displacement of basic communities. Contradicting spectrums such as these play a vital role in the making of contemporary mindset.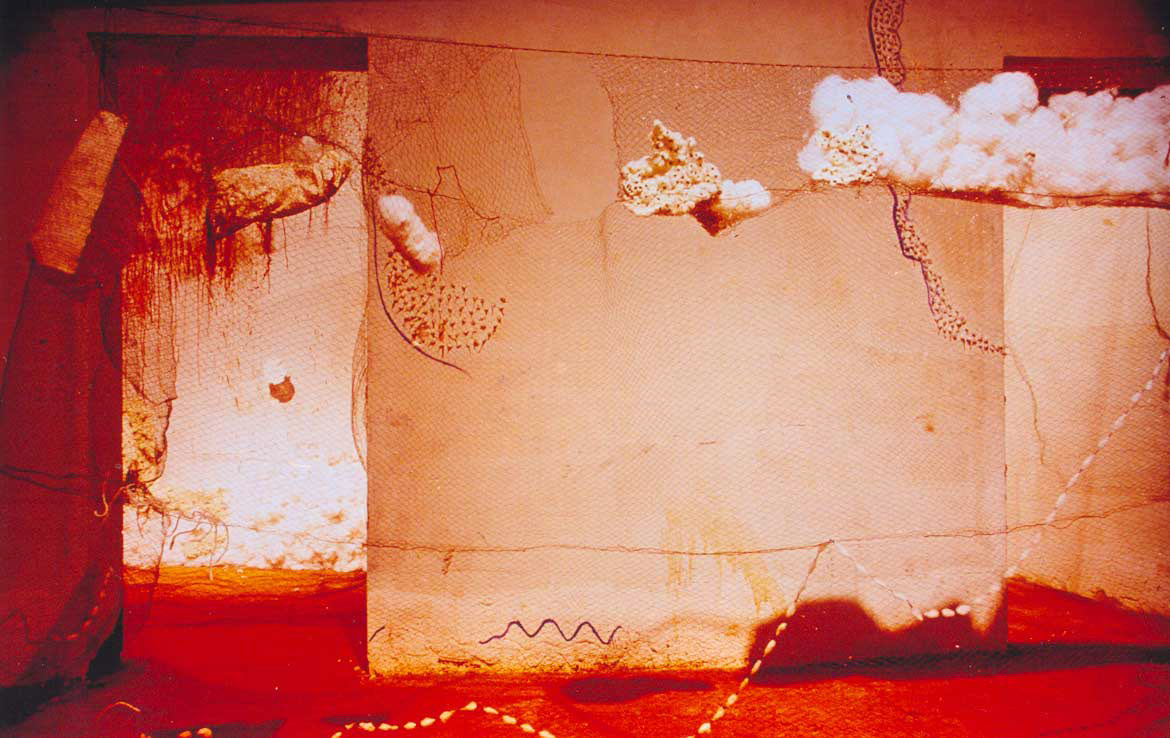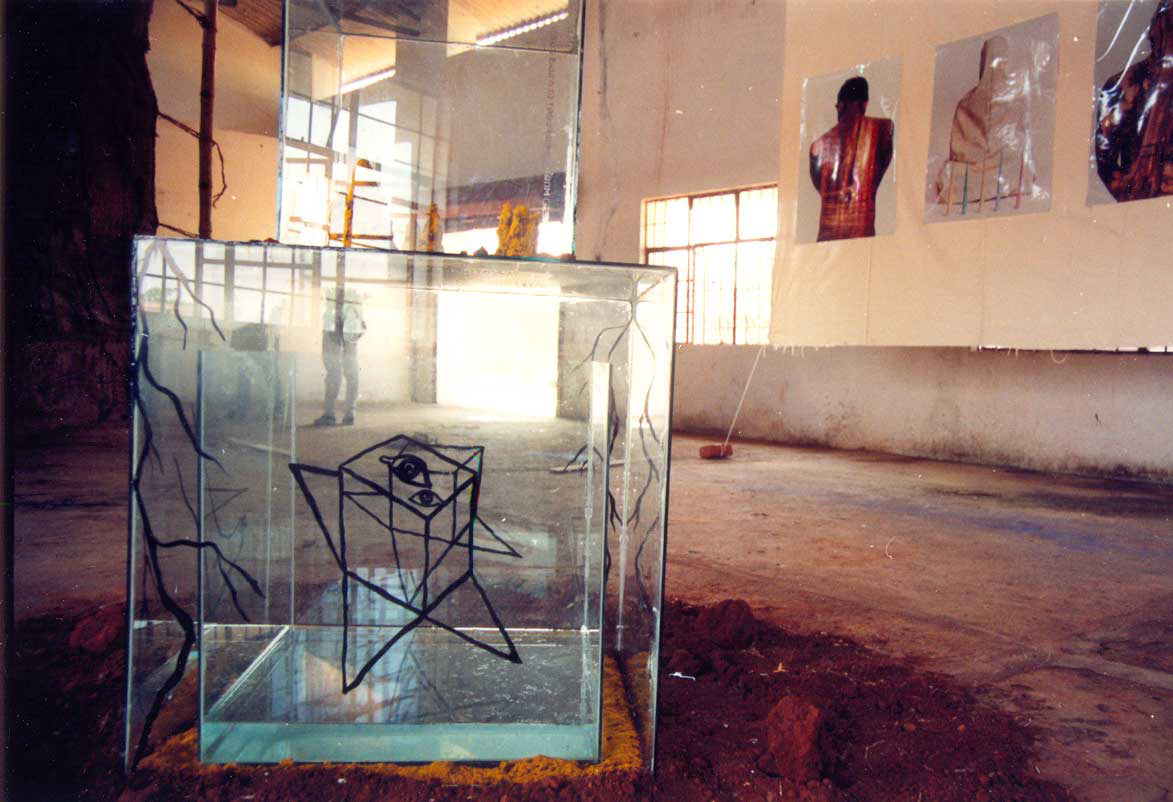 The works were executed in an open land of around two acres and in an old industrial building, 40 ft. (w) x 100 ft. (l) x 25 ft. (h). Twenty-four hours prior to the opening of the show there was a heavy storm and rain, which destroyed one installation totally and couple of other installations partially. Keeping the theme in mind, we made an attempt to do away with defining lines and ambiance. The materials chosen were the day-to-day materials conventionally used for defining boundaries, For example, corrugated metal sheets, gunny cloths, bamboo, chicken wire mesh, and bricks. The rawness of the materials was retained in the works. (Please refer to "territory" handout)
​​​​​​​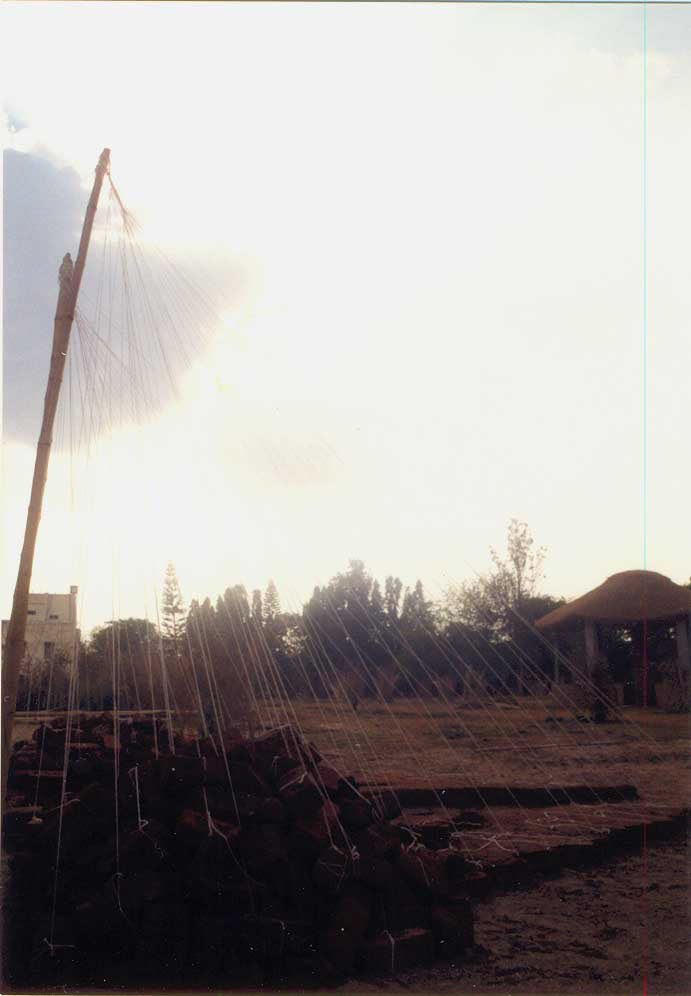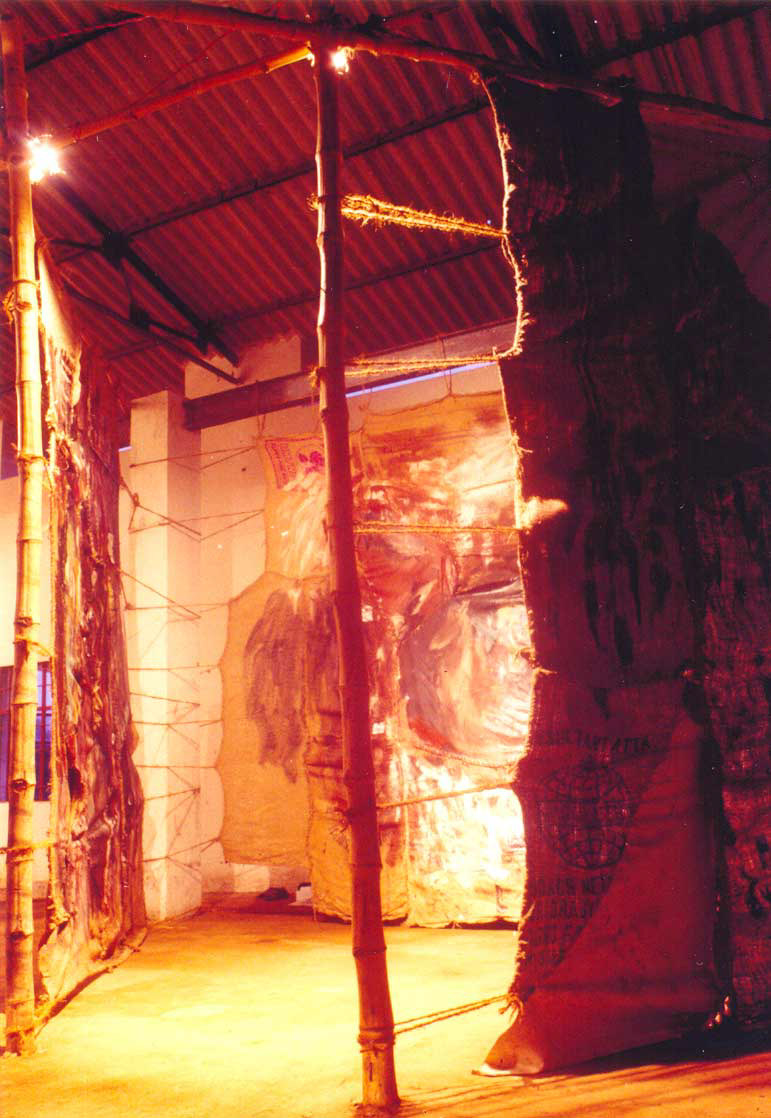 Azis, C.F John, Raghavendra Rao 
Rolls of barbed wire place atop high stone walls, glass shards embedded in concrete fences, signs reading 'Trespassers will be prosecuted', and 'Beware of the Dog', the infamous line of control in Jammu and Kashmir, multicoloured maps in school atlas' - who is not familiar with these attempts at definding and disturbing earth space? Why only human beings, even animals refuse to be left behind when it comes to establishing territorial rights!
Exercising ownership of land, either individually or as a group (namely as a village, city, country etc) by means of either religious, racial, or political belief has been ingrained in the human psyche from times immemorial.

​​​​
"Territory" the event held at analysing this hoary premise. Each of the participating artists and performer, attempt to create or carve out a space that is uniquely theirs. What makes this 'event' (one cannot term it an 'art exhibition' in the usual manner) even more interesting, is that all the artists have worked with actual, living space rather than with the limiting, two dimensional medium of painting. By moving to the outskirts of the city, indeed by moving out of the clinical space of the art gallery, these artists have overcome their first hurdle - they have unrestricted and interesting space to play with at Bit-Tul on Kanakapura Road"… - Veena Kotian - Thimmaiah, Deccan Herald.
Territory - the daunting struggle
""…Tackling the territorial tangle, rediscovering the colossal tussle for identities, the art of eight will speak for itself. In works of territorial magnitudes. In a huge plot, smelling of the human sweat - an industrial precise - the eight artists have arranged a rendezvous with the human spirit…"
- Rasheed Kappan - The Hindu
"Like the identification of an ambiguous relation between a home and its surroundings. These works abort any attempt at merely seeing. They beck on physical perception, they invite participation. Hence the audience and the works play a mutual hide-and-seek. In a way, the purpose of creating a new territory is deceptively served. The audience enters an exotic province of images while carrying visions of conventional art works in mind…"
- H.A. Anilkumar - The Sunday Times of India